Day two of aKademy 2006 and the speakers conference was brought to a close with the aKademy Awards Ceremony. And the winners are: Boudewijn Rempt, Alexander Neundorf, and Laurent Montel. Read on for more details.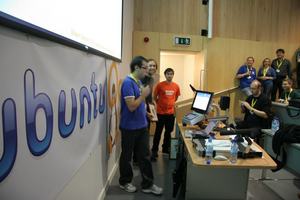 2006 aKademy Award for Best Application: Boudewijn Rempt for Krita.
2006 aKademy Award for Best for Best Non-Application: Alexander Neundorf for his work on CMake in KDE4.
2006 aKademy Awards Jury's Award: Laurent Montel for KDE4 Commit Champion.
Prizes included an iPod, sponsored by Ricoh, two Motorola ROKR E2 phones with Linux and Qt, sponsored by Staikos Computing, a years subscription to Linux Magzine as well as the right to help decide next years winners.
Thanks were handed out to pretty much everyone for the part they all played in making aKademy a success. aKademy local organiser Marcus Furlong received a standing ovation.
---