At the second day of aKademy 2007, the contributors conference closed with the aKademy Awards Ceremony. Two of last years winners, Boudewijn Rempt and Laurent Montel awarded no less than four awards to Sebastian Trueg, Mathias Kretz, Danny Allen and Kenny Duffus. Read on for more details.
This year's winners: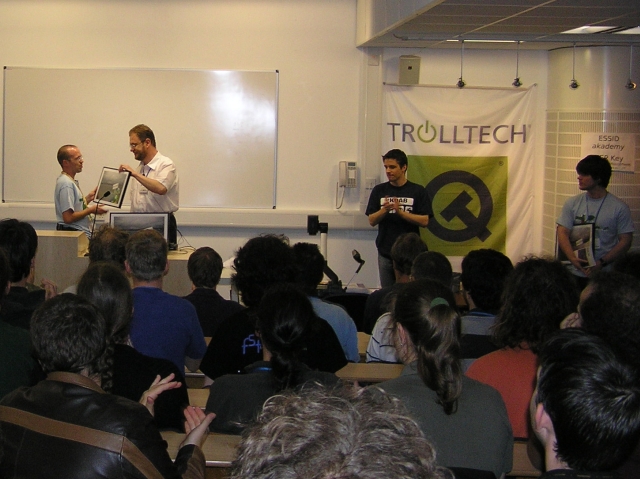 The awards ceremony is becoming a valuable tradition at aKademy. It is good to award those who have been an inspiration to the community. So this year, we went even further than last year, and had statuettes of cast-metal gears made. Unfortunately, it was not fully appreciated that 'real' things actually take time to be manufactured, and so were not presented at the ceremony. Two of the four winners were personally at aKademy, and thus they
received a picture of Konqi, signed by all KDE people at aKademy. And of course, the promise that the statuette would be sent to their home address. Furthermore, each winner received a "Mastering CMake" book, sponsored by Kitware and a one year subscription to Linux Magazine, sponsored of course by Linux Magazine. Kitware also sponsored a digital camera, which was given to Danny Allen.
The KDE project looks forward to recognising the work of contributors in the coming year, when this year's winners will decide the recipients of this most worthy award of the KDE community.
---