Boudewijn Rempt has summarised results of development for the next version of Krita, the painting and image editing application for KOffice. Krita 2.0 will contain a host of new features, some of which are unique in the free software world. Below Piotr introduces some of the new features which will be available in this release.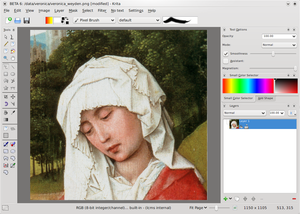 Ported: Krita now runs on Mac OS X and on Windows. Windows and Mac OS X ports are now available. They are easy to get using the Windows installer and Mac OS X macports (via koffice2-devel).
Vector layers: Krita 1.6 made it possible to embed a KOffice KPart as a layer into an image. This makes it possible to have a complete KSpread or KWord document as a layer. In KOffice 2.0, KParts have been replaced by Flake Shapes, as an end result Krita 2.0 has vector layers where you can add any combination of KOffice shapes. Examples of KOffice shapes are vector drawings, text objects or even musical notation objects. These shapes are then rendered at the image resolution and blended with your pixel layers. The same technique is used for vector selections.
More brush engines: Krita is the only paint application that has pluggable brush engines. Thanks to Lukas Tvrdy Krita has got some new engines like:
Sumi-e brush: a generic hairy brush simulation
Chalk: a very acceptable simulation of dry media
Dynadraw: Inspired by Paul Haberli's Dynadraw
Expect more interesting brush engines to appear over the next year.
Image resolution: In 2.0, Krita keeps track of resolution and can always display the image at the correct size on screen. That means that if you have scanned an image at 300dpi and have a 96dpi screen, your image will at 100% zoom be as big physically as on the paper you scanned it from.
Real colour mixing: A mixer canvas as in Corel Painter, but one where mixing the colours would give real-life results. This feature was added by Emanuele Tamponi during Summer of Code 2007. This feature may by postponed to 2.1, please test this feature if you plan to use it.
Clone layers: A clone layer copies part of another layer and inserts it somewhere else in the layer stack. You can then add new effect masks to the copy, for instance to create a blur effect. This feature seems to work but extensive user testing would be appreciated.
OpenGL canvas with on-canvas preview of gradients: If your computer supports OpenGL, you can use the OpenGL canvas. This is faster and uses less memory than the ordinary canvas. For introduction to other new features and answers why development of Krita 2.0 is taking so long please see this article.
Krita now needs a lot of testing to shape up 2.0 release and make it rock solid, so please give it a try and test it extensively. Also, the Krita project is in need of people who would like to help with updating The Krita Handbook. As you see a lot of new features are now available and the manual needs some love, this is a great opportunity for non-coders to contribute and work together to improve Krita and KOffice.
Three years of work on Krita 2.0 has resulted in much better code, extensive set of unit tests and better separation of concerns. Furthermore a better design for many data structures and better user interface. Krita developers hope that 2.0 release would be a great base for future development, the code is better and it is easier to get involved in coding for those who would like to improve this cross-platform painting and image editing application for KOffice.
---