Photographers in the Free world rejoice! On behalf of the Digikam developer team, Gilles Caullier has announced the first KDE 4 release of Digikam, the photo management application.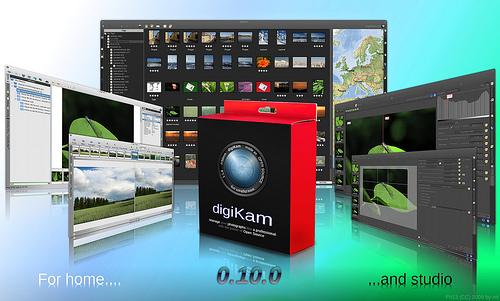 Digikam is a full-fledged tool that covers the whole digital photography workflow, from downloading the pictures off of your camera (and in the new version even capturing photos from inside digikam) to sorting, editing, rating and tagging (including geolocation and editing of raw photos in the new version) and of course also publishing your photos. Digikam now also allows for importing images from Social Media such as Facebook and SmugMug. Export plugins makes it easy to publish your photos to sites such as Picasa, FlickR, 23hq, Facebook and SmugMug. For the more traditional paper version of photos, there is the scan option that lets you import and manage all your old photos from Digikam as well.
Light Table allows you to compare pictures side by side and the powerful Image Editor lets you touch up your photos, correct colors, white balance and contrast and remove red eyes. It also offers more advanced features such as ICC profile-based color management and lens vignetting correction.
The new KDE4-based version of Digikam comes only one day after the release of Digikam 0.9.5 for KDE 3 and the release of Kipi-plugins 0.20.0, the plugins that provide image processing, import and export functionality to Digikam and other KDE graphics applications. There is also a Windows version of Digikam available via windows.kde.org. Digikam is Free Software, licensed under the GPL and can be obtained free of charge.
This brand new version of Digikam does not only come in new Oxygen-clothes, it also gained a host of new features, some of the more impressive are:
Geotagging of photos with GPS coordinates
UI improvements for using Digikam on netbooks
Editing metadata of RAW files
The camera interface has been redesigned and a capture tool has been added
New photo search tools: based on location, similar images, a sketch
Duplicate photo search
Automatic correcting of lens aberration
New ratio crop composition guide based on Diagonal Rules
Faster loading of thumbnails using multithreading
For a more comprehensive list, visit the changelog available via digikam.org
Not only has Digikam received many new features. This combined release also squashes more then 500 bugs and surely makes it a compelling offering for both for beginner and more demanding digital image processing.
---