After 5 months of hard work the Amarok team is proud to announce the next major release, Amarok 2.1, codenamed "Let There Be Light".
Since the release of 2.0 we have gotten a lot of feedback and have already integrated some of it in 2.0.1 and 2.0.2. This new release includes a new look, many improvements, new features and brings back old favorites.
The playlist can now be customized to only show the information you care about, matching the way you use Amarok. The layout of the Context View was changed, while navigation and applet management has been made easier. We added support for Amarok URLs to make it easier to share that crazy rock song you just found on Jamendo. You can now bookmark track positions, allowing you to save a part of a song for later or letting you start your audio book where you left off.
What's more, these are just a few of the goodies we added. Find out more by reading the release notes, download Amarok 2.1 and rediscover music!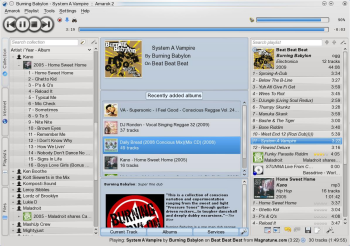 ---