During this weekend (and after almost 24 hours of work), the KDE Community Forums have undergone a complete overhaul, resulting in a much improved look and additional features. The first and most user-visible change is the new forum theme. It is heavily inspired by "Air", the default Plasma theme in the soon to be released KDE 4.3.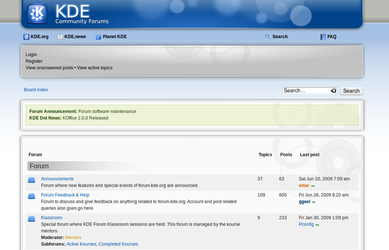 Also, the board is now powered by the phpBB forum software and has gained a number of extra features, including but not limited to:
Improved KDE Brainstorm section, with a new user interface;
A "friends connection" system that enables people to mark other users as
friends and easily interact with them;
Improved user reputation system;
Topic tagging;
The changes are quite numerous and deep, so some bugs may have slipped through our tests. The whole KDE Community is encouraged to visit the forums and report issues.
As a final note, thanks go to the people who made this possible: the KDE Community Forums administrators (Ben Cooksley, Ingo Malchow, Sayak Banerjee), the phpBB developers Chris Smith, Ashley Pinner and Nils Adermann for their continued assistance and support and to the entire phpBB team.
---