The Amarok team is getting ready for the release of Amarok 2.2 and is proud to release the first beta version of Amarok 2.2.
Work was put into all parts of Amarok to bring back old features like playlist sorting and new ones like a video and photo applet and the ability to rearrange parts of the program to make the layout fit your way of rediscovering music.
To find out more please read the release notes and this excellent user review.
Please help us polish this for final release in about a month by testing, reporting bugs and sending patches. Most of all though enjoy rocking with a much improved Amarok!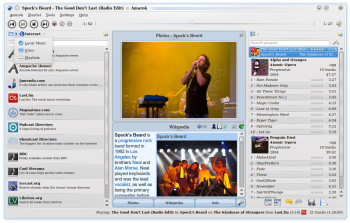 Amarok 2.2 Beta 1
---