The KOffice team today announced the second beta of the upcoming 2.1 release. The KOffice community has now switched from adding new features to only fix the remaining bugs, and that is obvious from this release. The first beta of 2.1 was released without any fanfares, but it marked the transition into the bugfixing stage. We now think it's time to let the users start to participate in the process. You can see the progress in the full changelog.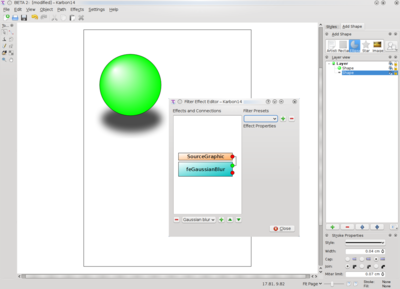 Karbon
Something that is not obvious from the changelog is that there has been much activity in the MS office import filters, especially for MS Word and Powerpoint. Many new formatting features have been implemented in both these filters. We expect KOffice 2.1 to be better at reading MS file formats than any previous KOffice version.
As was mentioned in the release notes for beta 1, the 2.1 release will contain new features in most applications, especially KWord, KPresenter and Krita. It also features the come back of the mathematical formula shape.
Since this release includes so many bugfixes, we encourage users that want to help with the process to try it out and report remaining bugs. As usual we are especially interested in bugs that cause data loss or incompatibilities with other office suites such as OpenOffice.org.
For more detailed information see the announcement.
---