A few days ago we found a nice blog post on the usability approach taken by the KDE community for the KDE 4 series. We have contacted the author to see if he was interested in doing a guest article for the dot expanding on his blog post. So without further ado, I present a writing by Daniel Memenode, web publisher and designer.
KDE always stood out as a desktop environment that doesn't shy away from giving you lots of options and features. It is no wonder that one of its flagship products, Konqueror, was often compared to a swiss army knife. It could be used as a file manager for both local and remote files, an image viewer and a fairly powerful web browser shifting from one role to the other as needed.
This however came with one downside in that it increased the perceived complexity of the desktop environment and increased the learning curve of a new user. KDE 4 was expected, among other things, to come with innovations which would possibly resolve this issue and I think it has already made some significant strides in that direction.
On face value KDE 4 didn't fundamentally change the typical layout of the desktop. There is still a main panel at the bottom with a K-Menu on one side of it, system tray on the other and task manager in between. The biggest visible change in defaults is that desktop icons now reside in a folder view widget and that the K-Menu is completely different. However behind the scenes everything changed and the nature of these basic desktop elements changed as well. They all became configurable plasma widgets thus actually providing the user even more flexibility than before.
This could mean that KDE 4 could be even more complex and come with an even greater learning curve than KDE 3, but that doesn't seem to have happened. Instead, in the experience of many including myself as someone who typically used GNOME exactly for its simplicity, KDE actually became at least a little simpler and more streamlined, and I think it is further evolving in that respect.
KDE 4 demonstrates the effort by the KDE community to make peace between these two seemingly mutually exclusive characters: power and flexibility (lots of options to choose from) versus simplicity and ease of use. The idea is to offer the user lots of choice and power over the way the desktop behaves without this feeling like a burden. It is to bring up the extra options when the user is actually looking for them and when they actually make sense - offering them in a way that doesn't add to the perceived complexity and doesn't ruin the usability of the default experience.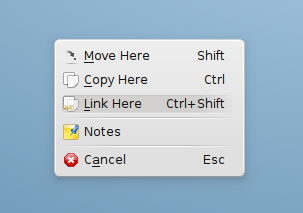 The context menu when dropping a text file on the desktop
One nice example of the way KDE did this even in KDE 3 is the contextual menu that appears when you drag and drop files or folders. It asks you if you want to move, copy, make a link or cancel the whole operation. In KDE 4.3 there are additional options added to this menu that depend on what kind of file you're dragging. For instance, if it's a picture and you're dragging it to the desktop, it lets you choose to make it into a desktop wallpaper. If it's a text file it offers the choice of making a sticky note widget from it. If you're dragging a folder it allows you to make an entire folder into a folder view widget.
This last example is especially interesting because this is where a whole new feature, one that new users may be unfamiliar with, is revealed to the user when it actually makes sense and may be quite useful. You're moving a folder and get the option to create a "folder view". Choose it and voila, folder view begins to make sense and you're that much closer to knowing what exactly a "folder view" option in a desktop settings dialog (available from a desktop right-click menu) does refer to. In fact, it may even become clear to the more tech savvy and experienced among us that this is what all desktops with icons including Windows, Mac OS and GNOME actually are; nothing but views of content of specific folders (like /home/user/Desktop).
Another example is a dialog for configuring toolbars in many KDE4 applications (Dolphin, Kate, Konqueror, Dragon Player etc.) which uses a relatively simple and logical interface that in one place allows the user to add from a pretty big list of possible toolbar buttons and position them wherever wanted by either dragging and dropping or using the arrows. It offers two methods for doing the same thing without one disrupting the other. All that's missing is the ability to drag and drop the buttons directly to the toolbar which on one hand would seem redundant, but on the other would provide the user a third choice without disrupting the existing two.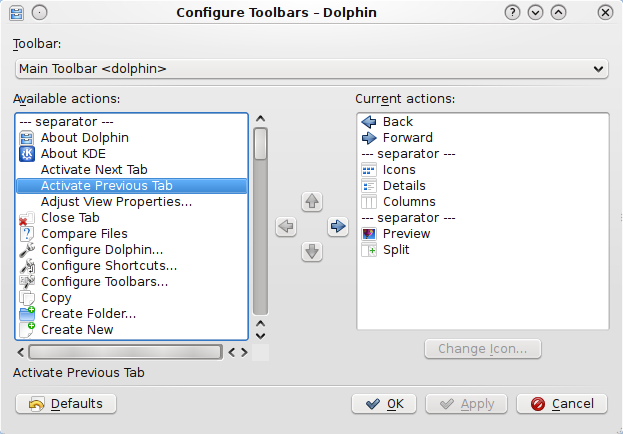 Editing toolbars like it works in any KDE application
This demonstrates that choice of ways of doing things doesn't have to come at the expense of usability. If an additional method can be added without making the other available methods any less effective and easy to use then there is no good reason not to, from the user experience perspective.
This also stands true in the example of "+" and "-" emblems on files and folders in KDE4 which allow selecting and deselecting them without holding ctrl or drawing a selection rectangle. This too actually adds another way of selecting files and folders without disrupting an existing one, thus serving people of both preferences at the same time. Furthermore, this particular feature actually aids usability, especially if the desktop is configured to use a convenient single-click launch for files and folders where single click to select would also launch the file or folder. "+" and "-" emblems get around that problem.

Select emblem on hover
There are other examples that illustrate the principle of offering flexibility without impairing ease of use. But perhaps most important ones involve the reinvention of primary desktop workspace elements as plasma widgets. This almost turns KDE4 users into designers of their own perfect desktop, should they want to be that. Everything is exchangeable and mobile. You don't need to have a typical bottom or top panel. You can mix and mash desktop elements in any way you like them. You can even have multiple arrangements at the same time by taking advantage of desktop activities.
Is this extra amount of choice really impairing the usability of those who may want to simply stick to the familiar defaults? No, because by making all workspace elements into a widget they have all been put on the same fundamental level where each can be manipulated in the same basic ways.
It's not like you have to go into some sort of an editor or a configuration dialog with a slew of options presented via textual descriptions you don't necessarily understand in order to completely transform your desktop (which actually reminds me of Compiz settings manager and even worse, gconf). Instead you literally take the elements by their handles and move them around. You manipulate them almost in the same manner you would arrange items on your real life desktop. And if you need finer tweaks you can open the relevant settings dialog right from what you're editing.
This is why I am beginning to appreciate the persistence of the KDE project at giving users great power and flexibility. I no longer believe that having lots of choice necessarily means a harder to use desktop. I think KDE 4 is well on its way to proving that point. In a sense it seems to show that good usability isn't necessarily about creating an interface that is "perfect" and "usable" for everyone with a single set of options and a single "mindset", but rather about providing a desktop that can do nearly everything anyone wants it to do, but do it only IF the user actually chooses so without impairing the experience of those who don't make that choice.
In other words, the desktop morphs to the subjective preferences and personality of its user rather than trying to assume what most users want. If usability is to some extent in the eyes of the beholder, as I think it is, then such a desktop adapts to that reality and becomes a perfectly usable desktop not by the definition of a particular group of experts, but by the definition of the user standing in front of it.
If that's the vision behind KDE 4, as it seems to be, then I think the potential is limitless. Of course, literal achievement of such a potential may be an unreachable ideal, at least with current technologies, but KDE 4 is making significant steps forward in that direction. Just proving that choice is not necessarily an usability problem is a big accomplishment in itself.
ABOUT THE AUTHOR:
Daniel Memenode is an alias of a web publisher, designer and main content producer behind a FOSS community site Nuxified.org and other sites such as Libervis.com and DoublePlusHuman.com, projects which are typically made to promote a particular set of good ideas, from Free Software and responsible use of technology to individual and social evolution (namely, promotion of self improvement and voluntaryism).
---