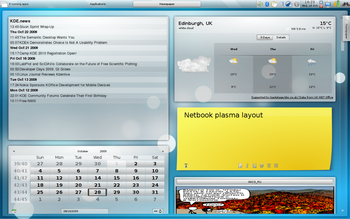 KDE-based distribution Kubuntu has released version 9.10 which adds a new variant showcasing the up and coming Plasma Netbook setup. The release also adds OpenOffice KDE 4 integration and extra installer beauty thanks to artwork from KDE's Oxygen team.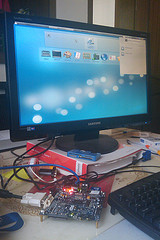 Plasma Netbook on ARM board
The new Kubuntu Netbook Edition is intended for computers with small screens, limited processing power and no CD drive. This initial release is a technical preview to show the progress being made by Plasma developers on this exciting new use case for KDE. Plasma developer Artur de Souza said on the release: "We've been working with the the Kubuntu developers to make KDE ready for a Netbook platform. Not everything is implemented yet, but it clearly shows the direction we are working in." The release is available for common i386 processors, but is also available in experimental form for ARM processors (pictured).
On Kubuntu 9.10 generally, developer Jonathan Riddell said: "This release is a notable improvement in quality over our previous KDE 4-based releases. Thanks to the hard work of KDE developers, vital elements such as network connection management are now much more reliable."
One small touch for KDE developers, a Qt SDK meta-package has been added to make it easy to install development tools for the world's best GUI toolkit.
Grab your copy now from the download page (best to use BitTorrent at this busy time) or if your connection is too slow for downloading CDs you can order a CD free from ShipIt.
---