KDE has changed over the past 13 years. The application framework has grown, matured and gone cross-platform, as have the applications. Strong growth in our community has created an increasingly diverse and large set of high-quality applications.
In the process, KDE's identity has shifted from being simply a desktop environment to representing a global community that creates a remarkably rich body of free software targeted for use by people everywhere.
KDE is no longer software created by people, but people who create software.
To be able to communicate this clearly in our messaging, it is necessary to reposition the KDE brand so that it reflects the reality. We therefore also need distinct brands for the products we produce.
Summary
We will use simply "KDE" and retire the expansion "K Desktop Environment"
We will use "KDE" exclusively in two meanings:

KDE, the community, which creates free software for end users
As an umbrella brand for the technology created by the KDE community

We will use distinct brands for the software that was previously referred to generically as "KDE":

The KDE Workspaces will be separately referred to as "KDE Plasma Desktop" and "KDE Plasma Netbook"
The KDE technologies used for building applications will be referred to as the "KDE Platform"
The KDE Applications will stay as they are: "the KDE Applications"
The product we currently have released as "KDE 4.3" is essentially a compilation of our software (Workspaces, Applications and Platform), and thus the next release will be named "KDE Software Compilation 4.4"
Details
KDE: the community
The strength of KDE is the community. It is where it all starts. It includes the KDE culture, the KDE values and the KDE mission. The community is also what ties us together and gives us an identity. This identity is KDE. So it is natural that the brand "KDE" stands first and foremost for the community.
Sometimes we use the term "KDE project" as a weak way to say "KDE community". We have grown far beyond the situation where you could refer to KDE as a "project". It is not a limited effort to solve the problem of having a desktop GUI for Linux anymore. It has evolved into a thriving community of people continuously working on creating and improving free software for end users based on specific values, ideals and goals.
The KDE brand transports the values of the KDE community, such as freedom, technical excellence, beauty, pragmatism, portability, open standards, international collaboration, professionalism, respect, and great teamwork.
KDE: the umbrella brand
In the context of software KDE acts as an umbrella brand for the software created by the KDE community and software using the KDE platform. This includes the KDE platform itself, the KDE Software Compilation, and all other KDE applications. See it as a hierarchy, with the KDE umbrella brand on top and the other brands below it.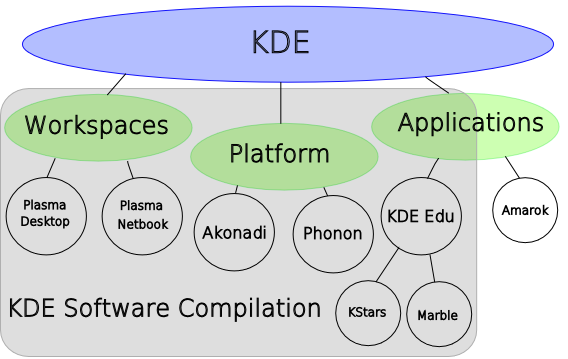 Graphical representation of the Brand Map
Retiring the term "K Desktop Environment"
The expanded term "K Desktop Environment" has become ambiguous and obsolete, probably even misleading. Settling on "KDE" as a self-contained term makes it clear that we have made the shift from a limited set of software components to a community providing an ecosystem of free software applications and platforms for the end user on the desktop, mobile devices, and more.
The term "K Desktop Environment" can be accurately and completely replaced by "KDE Community", "KDE Platform", "KDE Applications" or specific KDE application names, depending on what is actually meant.
For the desktop itself we will have the clearer name "KDE Workspace". The huge set of KDE applications can be put under the KDE umbrella brand using more specific brands for individual applications or application suites. The confusion about what a desktop environment is and implies can be avoided by using clearer terms in this manner.
Using distinct brands
To successfully position "KDE" as the community and as an umbrella brand, we need strong identities for our range of products. A summary of these products and the new brands are set out below.
KDE Products
Software created by the KDE community is branded on its own under the umbrella brand of KDE. Use of "KDE" in the product name is optional and depending on the context. Especially for applications that are not well known as KDE applications and are not easily identified as such by a "K" prefix in their name, it is recommended to use "KDE" in the product name.
KDE Applications
KDE applications make up the breadth and richness of the KDE universe. They are solutions to specific use cases. KDE applications can run independently of the KDE workspace and can freely be mixed with applications based on other platforms and toolkits. Here are a few examples:
Okular or KDE Okular
Dolphin or KDE Dolphin
Amarok
Krita or KDE Krita
KWord
KPresenter
KDevelop
KSysguard
K3B
There are a few brands which are used to identify application suites built up from several applications. These can be used just like application names when referring to a set of related applications bundled under the application suite brand. Those brands are sometimes also used to refer to a sub-community. Examples include:
KOffice (KWord, Krita...)
KDE Kontact or Kontact (KMail, KOrganizer, KAddressbook...)
KDE Edu
KDE Workspace
KDE provides workspaces. These provide the environment for running and managing applications and integrate interaction of applications. The workspaces are designed as generic environment for all kinds of desktop applications, not only applications built on the KDE Platform. They integrate best with applications following the standards used by the KDE Platform. There are different flavors of the workspace to address the needs of specific groups of users or adapt to specific hardware platforms:
Plasma Desktop or KDE Plasma Desktop. This is the workspace for desktop computers. It's built on the classical paradigm of a desktop environment.
Plasma Netbook or KDE Plasma Netbook. This is the workspace for computers with a small display, e.g. Netbooks.
Future KDE workspaces tailored to specific devices will follow a similar naming scheme
The workspaces include many key components such as KWin, KDM, Plasma library, KSysguard and System Settings. Generally we market the specific workspaces (like Plasma Desktop), explaining they are part of the KDE Workspaces.
KDE Platform
KDE software is created on the KDE Platform, the base of libraries and services which are needed to run KDE applications. It is used by core and third-party developers to create KDE applications. Especially when including development frameworks and tools it may be referred to as KDE Development Platform. It is built on a number of Pillars (Akonadi storage framework, Solid hardware layer, Nepomuk information management, Phonon media framework, Plasma library).
The KDE Software Compilation
The KDE community does regular releases of a core set of KDE software products. These releases are called the KDE Software Compilation and tagged with a version number, e.g. "The KDE community is releasing KDE Software Compilation 4.4". Applications that make up the KDE Software Compilation may be run independently of each other and additional applications can be added without problems. These applications can be freely mixed with applications using other frameworks and run in whatever desktop environment one may choose.
Further information
The full details on KDE branding can be found in the document "Repositioning the KDE brand" and there is also a Brand Map on the KDE Community Wiki.
Implementation
The structure above has been agreed after over a year of discussion and planning. It has been discussed with the community in various places as well. We know and acknowledge it is different, and takes some getting used to. Some things might seem unnecessary - please believe we thought it through. It is time to move on from the discussion and start implementing. We want to have most of this in place for the 4.4 release of the KDE Software Compilation.
We will use the KDE brand and the other sub-brands actively in our communications, making sure to distinguish between them in a natural way, and start treating the workspace as "just another product". Over the next months we'll be increasingly transitioning to the new terminology and updating our online resources and marketing material to provide a single, coherent branding structure. Of course, as a member of the KDE community, you can help. First of all by using the new terms in your communication, updating sites, documentation and dialogs; secondly by explaining things to others.
---