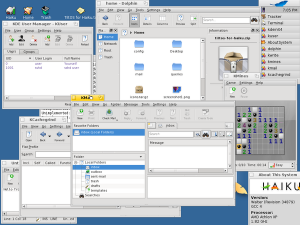 KDE applications on Haiku
Continuing the theme of "KDE Everywhere", recently it was announced by the folks over at TiltOS that KDE applications are now available for download and use. TiltOS provides a repository and an easy to use application manager for the Haiku operating system, which is in turn aims to be an open source implementation of the BeOS operating system.
The available applications include:
kchmviewer, kdeaccessibility, kdeadmin, kdebase, kdeedu, kdegames, kdegraphics, kdelibs, kdelibs-experimental, kdemultimedia, kdenetwork, kdepim, kdepimlibs, kdepim-runtime, kdesdk, kdetoys, kdeutils, kdevplatform, kdewebdev, kdiff3, koffice and many others packages. In all there are about 150 applications ready to run.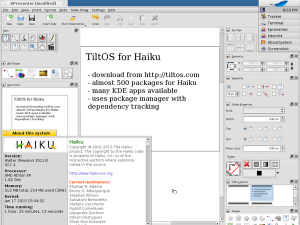 KOffice's KPresenter on Haiku
As reported in the announcement, this is all possible thanks to the Qt port for Haiku. KDE continues to grow into more devices and onto more operating systems all the time. And now, users of this operating system can enjoy the KDE as well. And hopefully also become an important part of the growing KDE Community!
---