In March, we announced a set of labels for use by people creating KDE software, to demonstrate their association with KDE. We chose three options: Powered by KDE, Built on the KDE Platform and Part of the KDE Family and asked for artwork for badges and banners to illustrate these terms.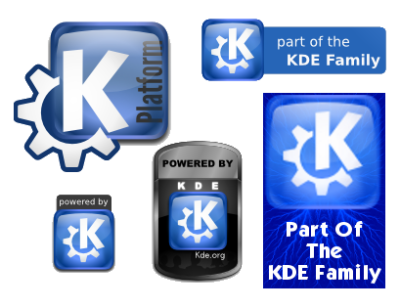 Some of the current designs
Last call for designs
It is now time to finalize the designs. We will allow additional submissions on the wiki up to the end of May and then we will vote on the designs. So if you haven't yet submitted your idea or would like to tweak your existing submission, now is the time.
We are requesting design variations that cover both a vertical or square badge-like arrangement (like most of those currently submitted) and a horizontal web banner style design. So if you only submitted one so far please add another one so we can see how well your idea could translate to a different format.
Picking the best
At the start of June, we will determine by a vote the strongest design to be developed into the finished labels. The judging panel will include members of the KDE promotion team and (similar to the Plasma Jam Session) will include an additional member: you. There will be a poll on the KDE Community Forum, the opening of which will be announced on the Dot, so that everyone who is KDE can have their say.
Keep watching the Dot for news on the poll and results.
---