The KOffice team is very happy to announce the arrival of KOffice 2.2.0, half a year after version 2.1 was released. This release brings an unprecedented number of new features and bugfixes as can be seen in the full list of changes.
There are two reasons for this very high development rate. Firstly, people have started to notice KOffice again and the developer community is growing. Secondly, Nokia is sponsoring development of KOffice for their mobile office viewer. Here follows a list of the most important changes in this release.
Highlights of KOffice 2.2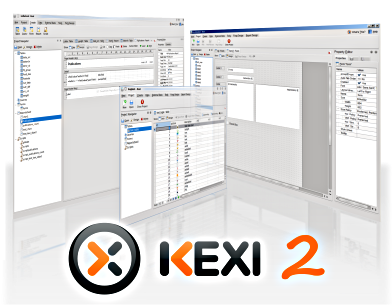 Kexi returns in KOffice 2.2
Kexi is Back
The big news for this release is that Kexi, the data management application, is back. Kexi was last released in KOffice 1.6 so the new version has seen over 3 years of developement. Kexi has received a complete overhaul of the user interface and should be ready for production work.
Major Enhancements
There are many larger and smaller improvements in KOffice 2.2. The biggest enhancement that is available in all applications is a new framework for effects on shapes. Right now there are eleven effects and more will follow in future releases.
New Import Filters for MS OOXML Formats
KOffice has received new import filters for the Microsoft XML based office formats that are used in MS Office 2007 and later. The filters are still pretty basic, but definitely usable for real documents. At this time there are no plans to implement export filters for these file formats.
Improvements in the applications
All the applications of KOffice gained major new features and lots of bugfixes. In total there have been over 4500 commits during the last 6 months. The list of changes is too big to include here, but curious readers can find the full details in the changelog.
Suitability for Use
This release should be much more stable and full-featured than 2.1. KOffice 2.2 has received many enhancements to the layout engine, the libraries and the filters. There are still areas in the user interface that we want to work on before stating that KOffice 2 is ready for the general public. We are, however, at a stage where we think that KOffice can be used for real work.
---