Free thinkers. Curious people collaborating across borders. Pioneers pushing back the boundaries of what is possible. Teams building upon the work of others. People trying things just to see what happens.
Those are all phrases that could be applied to KDE - or to scientists. The scientific mindset shares a lot with that of free software and so it is no surprise that there are plenty of scientists within our community, nor that KDE has some strong applications in the world of science.
A few days ago, your writer did a quick, albeit decidedly unscientific, survey to gather some thoughts of the KDE scientist community on our current software offerings and the missing links. Here are a few of the conclusions.
Popular Science Applications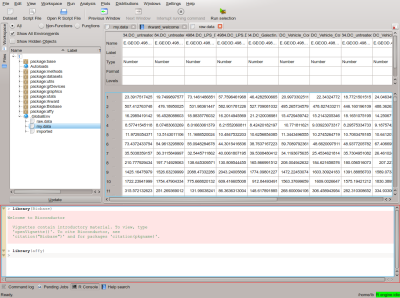 RKWard, a KDE R environment
Kile and Okular seem to be real favorites. No surprise really, as the activities common to every scientist are writing and reading scientific papers. KbibTeX is also popular for organizing references, despite lacking a Platform 4 version.
Kate is popular among scientists, apparently finding favor for everything from note taking to coding and drew praise for its syntax highlighting.
Relative newcomer Cantor generated a lot of enthusiasm with several current users and many more interested in giving it a go in the future. The already existing R front end and IDE RKWard is also used by several KDE enthusiasts working in the sciences.
Less Well Known Applications
Many commenters were not aware of all the applications that had been listed, while others suggested applications that had not made the initial list. LabPlot in particular was not that well known, although many respondents said it might be useful to them. This may be because the project has been, outwardly, quite quiet for a while as a lot of work is done behind the scenes on the Platform 4 version and sharing of code with the Qt SciDAVis project.
Rocs and Step were also not well known, though considered to be potentially useful, by a number of respondents.
Plasma Workspaces and the KDE Platform
Proving that not everyone is scared of Akonadi, biomedical engineer and informatics PhD student Daniele from Italy has a "plan to migrate to KMail as soon as it gets fully integrated with Akonadi".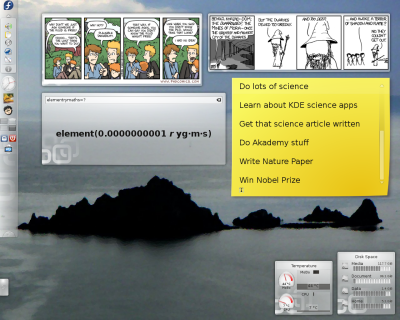 A typical KDE scientist's Plasma Desktop?
Some respondents are already using Nepomuk to track projects, tag papers (or to extract meta-data from them) and even to rate student submissions. There was general enthusiasm for seeing more use of Nepomuk.
The Plasma workspace activities also appear popular with scientists, with several reporting that they have an activity or folderview set up for each project on which they are working. KRunner was mentioned as a useful tool for quick calculations and unit conversions. Similarly, many people reported using Plasma widgets, from using the Remember the Milk and Qalculate widgets to keeping up to date with PhD Comics and xkcd.
While many people seem to recognize the benefits of using the KDE Platform to get access to technology such as Nepomuk and the Get Hot New Stuff framework, there is also a strong desire for cross-platform software so that teams using different operating systems can interact easily. For this reason some people have, in the past, tended to favor writing applications in pure Qt rather than using the KDE Platform.
Improving KDE Software for Scientists
Physicist and mathematician Jack Summers leant his support to the interesting KPapers concept to develop a new kind of reference manager. There was widespread enthusiasm for KbibTeX 4 or its successor to take full advantage of Platform 4 technologies such as Nepomuk and integrate better with KOffice, Kile and Okular.
Many scientists seem to want a simple IDE for their chosen scripting language, with interest in Python in particular. Some, such as Luca Beltrame (Italian bioinformatician, better known in KDE land as one of the forces behind KDE forums) would like to see better support for such languages in a full IDE. However, Chris Warburton (a Computer Scientist in the UK) prefers a simple approach: "my favourite IDE is Geany. A fullscreen text editor window with syntax highlighting, code folding, auto-indent and a big 'Execute' button is all that's needed for scripting languages, and a KDE app like that would be great (something like Kwrite with an Execute button)". There were also calls for syntax highlighting of FORTRAN (Luis, working in Leeds, UK)
There is interest in a KDE graphical application to compete with the likes of MatLab, Mathematica and similar proprietary software, and many felt that Cantor has potential to meet some of their needs in this respect.
LabPlot: a less well known KDE science application
There are also a wide range of formats and third party services for which many scientists would like to see import and export capabilities. Given the range of requests, this may be best implemented through a plug-in system. Kommander is missed as a means for quickly making graphical KDE applications.
Building a KDE Science Community
There seems to be a lot of enthusiasm for drawing together scientists (and other users of scientific software). Many people expressed an interest in either web pages dedicated to giving an overview of applications relevant to scientists or a mailing list, although the success of the latter would depend on a sufficient volume of relevant traffic.
Many of the respondents were physicists, computer scientists, engineers and people working in biological sciences. Maths and social sciences were also well represented with a few chemists and environmental scientists.
Several applications that scientists reported using have uses outside the scientific community - for example Okular, Marble, Krita, coding tools and Akregator (for subscribing to RSS feeds of journals). Therefore, although some people called for a dedicated KDE module providing scientific applications (along the lines of KDE Edu) it could be difficult to define a list of applications that would belong there. A traditional module following the release pattern of the Software Compilation would also be unlikely to suit many of the application teams who currently enjoy the freedom of following their own schedule.
Next Steps
What do you think is the best way for KDE to better meet the needs of scientists and attract new users from among the scientific community?
If you will be at Akademy, come along to the lightning talk (Sunday at 1030), the bioinformatics BoF (Tuesday, 1500) and the KDE Software for Scientists BoF (Wednesday, 1030) to explore the issues and play your part. If you can't make it to Akademy, make a comment below or watch out for further news on the Dot and Planet KDE.
---