The KMyMoney team is pleased to announce the release of the first stable version built on KDE Platform 4. With over 15 months of development, this is the starting point for a series of KMyMoney versions leveraging the stellar features offered by the new Platform.
Keeping Your Financial Data Safe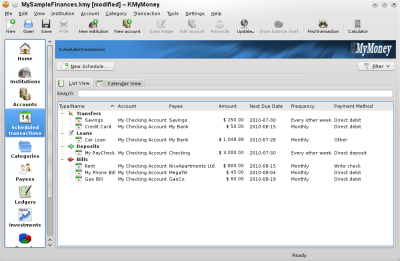 KMyMoney's Schedule View
Throughout this effort, the team's focus has been to maintain feature-parity with previous versions, maintaining and improving the high level of quality that your personal financial data deserves. This version has gone through an intensive testing process to find and fix many bugs and to improve the usability of the application.
Along the way, we managed to add some new features too:
Better documentation
Support for the latest version of AqBanking
Improved usability of the online banking features
KWallet integration to store online banking passwords
Consistency checks that run automatically before saving data, checking for a wider range of problems, automatically correcting many of them
Support for all operating systems supported by the KDE Platform
About KMyMoney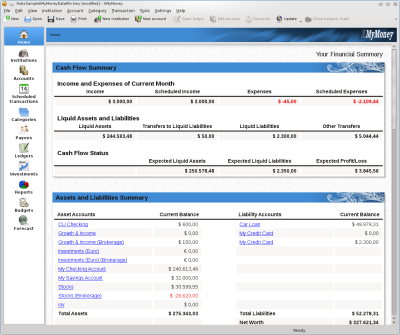 View a summary of your finances
You don't know where your money is going? Trying to get a hold on your household budget? Have an investment portfolio and don't know how it has performed? You have money in different currencies and it's hard to figure out how much you actually have? KMyMoney can help you; it is intended to be the easiest open source personal finance manager to use, especially for the non-technical user.
Based on tried and tested double entry accounting principles, KMyMoney ensures that your finances are maintained properly. Although many of its features can be found in other similar applications, KMyMoney strives to present an individual and unique view of your finances. Following KDE's philosophy of sensible defaults with powerful configuration options, KMyMoney offers a default configuration and templates to start managing your finances with minimal hassle, with the possibility to customize it to your liking.
If you are new to KMyMoney, you can enter your account information and keep track of your income and expenses, synchronize with your online banking and have an accurate view of your current finance situation. You can also keep an eye on your investments, tracking their prices through online quotes. When you are ready to really take hold of your finances, you can create a budget, compare it to actual expenses, and take a peek into the future with the forecast feature. This new version of KMyMoney can do all this and more.
Future Plans
For the last year, our team has been committed to releasing this version. Now, we will continue our efforts to make KMyMoney the best personal finance manager by leveraging more features provided by the KDE Platform, and by improving the integration with other applications via Alkimia, the nascent framework of the KDE Finance applications group. Expect more exciting features coming your way soon!
---