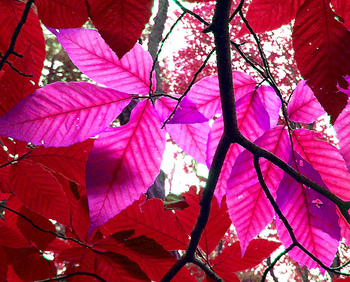 Image by
D Sharon Pruitt
October is here in all of its glory! Whether you are seeing the leaves turn or the sun coming back, it is time to celebrate Amarok. We are nearing the year's end and are ready to sum up our efforts, while we continue to develop and Rok the World!
In the last twelve months, we have made more than 4000 commits, closed over 4000 bugs, released 6 new versions of Amarok, written a Quick Start Guide to Amarok, attended over 10 conferences and had a big developer sprint in Switzerland. All of this, thanks to your donations! We have a big fundraising goal this year to keep us on the fast development track.
A Year of Success
Some of the highlights this year:
New Automatic Playlist Generator
Improved cover fetching
New applets for the Context View (Upcoming Events, Similar Artists, Videos...)
Moodbar support
Better desktop integration (including KNotify support)
Better podcast handling
Queue support
Custom label support
A huge number of improvements to existing features!
Your Donations Help us Build the Future
For Amarok 2.4, due in early 2011, and upcoming releases we have planned:
Transcoding, so you can transfer files to your media device in the right format
UPnP support
Playdar integration
Spectrum analyzer
Completing the Amarok handbook
Many more exciting features and improvements!
You might have noticed that our development pace has quickened! In order to continue working on Amarok at such speed, we call on your help. Costs such as server maintenance and traveling expenses are too much for our tiny budgets to handle. Remember, everything we do, we do for free! And this is where you come in!
Roktober
This year's Roktober, our annual fundraiser, has a goal of €5000. Reaching this goal will help us handle this next exciting year smoothly. The funds will help us develop more powerful features in Amarok, pay for our servers and send team members to conferences. We may even run a developer sprint or two!
As a sign of our appreciation for your support, donors can opt in to being added to a special section in Amarok's About Dialog. Your name will then appear in each version of Amarok that gets released in the next 12 months.
So join us, and throw in your share to Rok the World!
Please go to Amarok's website. In the left sidebar, there are two donate buttons. The upper one is for donations via Paypal and the lower one is for donations via Google Checkout. Choose your preferred one and donate to support Amarok development. Thank you!
If you wish to be listed in Amarok's About Dialog as a supporter, please send an email to roktober @ getamarok.com after you donated with your name as it should appear there (and if you have one, your nickname on OpenDesktop). If you are sending this from a different email address than your donation, please mention that as well. Your name will not appear unless you give permission. Should you have any problems or questions please email roktober @ getamarok.com.
---