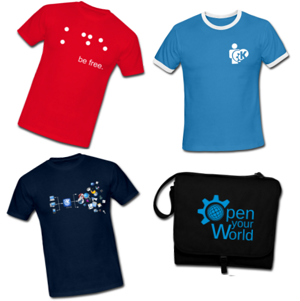 A selection of the available items
Just in time for the holiday gift rush, the Promo team has set up stores where you can find a variety of shirts, hats, and accessories sporting cool KDE designs. Special thanks to Eugene Trounev, Bugsbane and Sebastian Kügler for some of the first designs.
To make shipping cheaper, there are currently two localized sites:
We would be interested to hear from volunteers willing to help set up localized sites for other regions. Please email the KDE-Promo team if you are interested in helping with this.
We are also still accepting new designs. If you have an idea for new design, please post it to the "Swag" wiki page for consideration.
---