This year's event will feature keynotes from Jim Zemlin, the Executive Director of Linux Foundation, as well as Carol Smith, program administrator for Google Summer of Code and Google Code-in. We also have a full array of exciting talks organized into four tracks, plus a panel discussion and hacking sessions.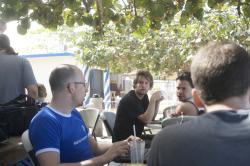 Don't forget to visit the Camp KDE site where you can register to attend and keep up with the latest event information.
Monday, April 4
Keynote
Jim Zemlin, Linux Foundation: The State of the Linux Union
Track: KDE on Mobile
Frank Karlitschek: Why ownCloud is important for KDE
Romain Pokrzywka: KDE on Mobile, with Kontact Touch
John Layt: Geolocation Services in KDE
Track: Personal Information Management
Alvaro Soliverez: Alkimia, a Framework for Personal Finance Applications
Marijn Kruisselbrink: Calligra Introduction
Rob Oakes: Writing and Publishing with Open Source Tools
Tuesday, April 5
Keynote
Carol Smith, Google Open Source Programs Office
Panel: KDE in Education:
Carol Smith, Knut Yrvin, and Aleix Pol
Track: Qt in KDE
Thiago Macieira: Qt Open Governance Progress
Ariya Hidayat: Introduction to QtWebKit
Ariya Hidayat: Efficient Graphics with Qt: Beautiful and Blazing Fast
Track: Developing KDE software
Aleix Pol: KDevelop
Vincent Batts: Slackware: Quickly and Easily Manage Your KDE Hacking
Knut Yrvin: KDE Contributions to Qt
Hacking Sessions:
Once the talks are over, the rest of Tuesday will be available for hacking and discussing - in short, a hallway-track-on-stereoids. This is great fun: we will split up in teams according to interests and discuss those topics in personal. You get to talk to the core KDE developers in person, contribute your thoughts and be a part of the future of KDE!
Camp KDE - Exciting!
In short, Camp KDE 2011 is gearing up to be as exciting, if not more, than the previous Camp KDE events. Learn and play go hand in hand and each of the Camp KDE meetings has left its visitors with many tales to tell. Great ideas and plans have originated at Camp's, awesome work was done and new friends were made. A grassroots event like this certainly counts among the best Free Software has to offer - so if you live in the area, be there!
---