Announced today at conf.kde.in in Bengaluru, Project Neon is back, new and ambitious. Those of you who have been around KDE for a while might remember the old incarnation, which provided nightly builds of Amarok. Now the new generation of talented young Kubuntu developers announce that Project Neon is open for business!
Project Neon provides nightly builds of the KDE Software Compilation trunk, with similar Amarok support also coming very soon. Project Neon is an easy way for new KDE contributors to get started without having to build the entire KDE-SVN tree and maintain the checkout. Additionally, dependencies are automatically handled and updated. This makes Neon suitable for a range of contributors such as new developers, translators, usability designers, documenters, promoters, and bug triagers. See the details on Techbase. The developers also have an active set of wiki pages for those who want to help with the project. The project uses the Launchpad infrastructure; the IRC channel is #project-neon on Freenode. Some screenshots are on the wiki.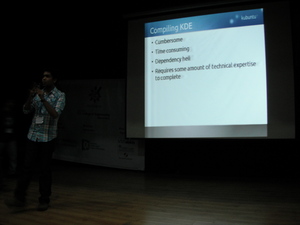 Announcing Project Neon at conf.kde.in Today
According to Project Neon developers, running it will require latest stable or development release of Kubuntu. They say that it is possible to port Project Neon to other distributions, though there are currently no maintainers for other distributions working on the project. openSUSE also provide their own weekly build of the KDE source trunk.
Kudos to Philip Muškovac (yofel), Michał Zając (quintasan), Rohan Garg (shadeslayer), and Gaurav Chaturvedi (tazz) for their accomplishment! And thanks to Sheytan (Tomasz Dudzik) for the great artwork. Branding is important, and the developers of this project appreciate it.
---