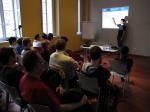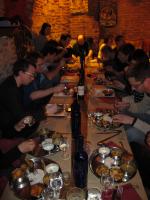 Toulouse, 4.6 Release
Once again, it will soon be time to get together and celebrate KDE's latest Major Releases. Developers, testers and bug chasers have been busy putting the final touches on the latest versions of our software. Soon it will be time to relax and appreciate the results!
There is a wiki page for the 4.7 parties. If you want to organize something, please add it there soon and start getting the word out. The release is planned for Wednesday, July 27th. This is a great cause for celebration.
What's this all about?
The KDE Community will meet all around the world for a fun time to celebrate the 4.7 releases.
Anyone can organize a party. Just add it to the wiki and invite people to sign up.
What happens at the party is up to you! Your local event could be anything from meeting for drinks to an all-out event with talks, demos or an UpgradeFest. Be creative!
Everyone is welcome – contributors, soon-to-be contributors, users, FOSS friends and anyone else who just wants to celebrate.
If you're going to be at a major event like OSCON, wear blue and your KDE paraphernalia. Turn the 27th into KDE Release Day!
The new KDE software is an excellent way to show off F/OSS. Invite people who might be wondering what you are so excited about.
Please put any questions in comments...down there ↓.
So go ahead and reserve a table at a local restaurant. Shoot out some emails to locals. And show up. Oh... and take pictures, it's wonderful to see people excited about KDE software.
---