In the weekend of November 11, more than twenty Calligra developers braved the fierce weather of Helsinki to meet up again! Well, the weather wasn't that fierce actually, but it could have been! We met up in the office tower that houses Nokia's research department during the weekdays for two days of hacking, presentations and meetings. For several attendants it was their first travel to a community gathering: welcome Smit Patel, Brijesh Patel and Dimitrios Tanis!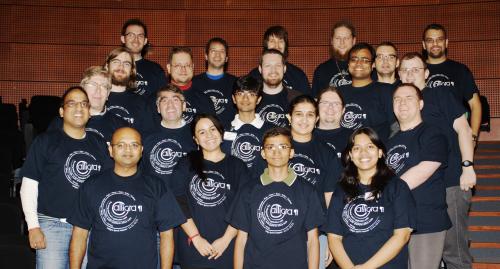 Calligra Sprint attendees
Some highlights: the Saturday morning meeting where we decided to have one or two additional beta releases -- and the same day our Release Dude (who couldn't be present, unfortunately) came up with the same idea. It's not that we don't want to release, but the first Calligra release has to be good!
Saturday afternoon, SKF gave a remote presentation on how they are using Calligra Words as a report generator/editor in their tool. Their usage is very advanced, it includes RDF, for instance, and the presentation was a huge success. It's always great to see the results of your project in actual use!
A similar presentation was given by Nokia the next day: we were shown how well suited the Calligra office engine is to power the Harmattan Office application on Nokia's smartphone, the N9. This being a developer meeting, a slide that showed that we're doing better than Microsoft's mobile office was followed by four slides of Highly Important Bugs in what we can improve to make Calligra even better!
But that was great as well -- as great as the lunches and dinner Nokia provided for all of us. Thanks go to Nokia and KO GmbH for sponsoring travel and accommodation, and Nokia for sponsoring food and drink for the whole group! Thanks also to Claudia Rauch of KDE e.V. for helping with getting help on the organisational thinks like visas.
And now everyone is home, it's time make our code ready for the long awaited first release of Calligra, Calligra 2.4
---