The latest set of KDE releases has been announced. It includes major updates to Plasma Workspaces, Applications, and the Development Platform. Version 4.8 provides many new features, as well as improved stability and performance. Check out the highlights below and read the full announcement.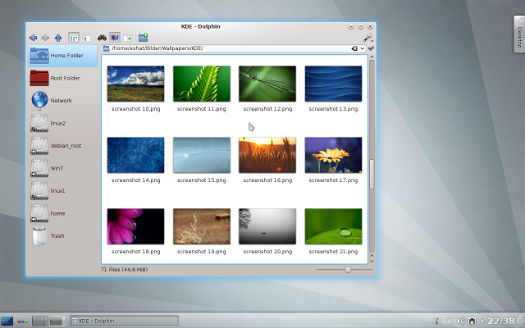 Dolphin gets a new display engine (click for larger)
Adaptive Power Management in Plasma Workspaces
Plasma Workspaces highlights include KWin optimizations, power management redesign, and integration with Activities. Read more...
Faster, More Scalable File Management
KDE applications released today include Dolphin with its new display engine and semantic goodies, new Kate features and improvements, and Gwenview enhancements. Enjoy new Marble features such as interactive Elevation Profile, satellite tracking and Krunner integration. Read more...
More Stability, Performance, Features in the KDE Platform
KDE Platform provides the foundation for KDE software. Platform 4.8 brings easier user interface development and substantial improvement in password management. KDE Telepathy framework reaches its first beta milestone. Resolution of numerous bugs means that stability and performance continue to improve. Read more...
Spread the Word and See What's Happening: Tag as "KDE"
Even though the KDE team has plenty of developers, non-technical users are also critical to success. Report bugs. Encourage others to join the KDE Community.
Please spread the word on the Social Web. Submit stories to news sites, use channels like delicious, digg, reddit, twitter, identi.ca. Upload screenshots to services like Facebook, Flickr, ipernity and Picasa, and post them to appropriate groups. Create screencasts and upload them to YouTube, Blip.tv, Vimeo and others. Please tag uploaded materials with "KDE" to make them easy to find, and so that the KDE promo team can analyze coverage for the 4.8 releases.
You can follow what is happening on the social web on the KDE live feed. This site aggregates real-time activity on identi.ca, twitter, youtube, flickr, picasaweb, blogs and other social networking sites. The live feed can be found on buzz.kde.org.
Comments are moderated based on the KDE Code of Conduct. There will be a delay before they are published.
---