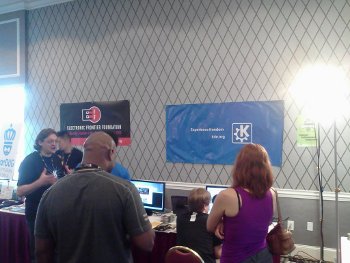 KDE at SouthEast (US) LinuxFest
KDE was represented at the SouthEast LinuxFest again this year with a booth showing off our latest software. The Calligra Suite, Kontact, Telepathy, and Plasma Workspaces were featured. Krita particularly intrigued many people. As a result, many copies of the Comics with Krita training DVD were handed out along with the accompanying comic book, Wasted Mutants and Wisdom Mountain.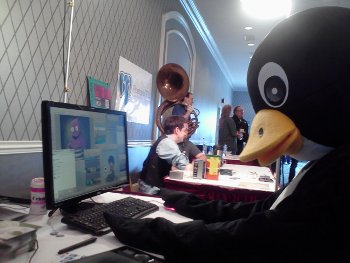 KDE - Tux's favorite user interface
Many who have not used KDE software recently, or ever, said that they were impressed with KDE's technology, with special praise for Kwin's improvements and all around Workspace stability. There was a contest at the booth to see who could crash a KDE application in under a minute. Several people tried hard to accomplish this task, but no one following the rules (no command line, magic keys, or rebooting) was able to make any KDE program crash.
Some visitors to the booth asked about getting more visibility for KDE and organizing a KDE USA community. There were suggestions to have KDE representation at more open source software events and sprints involving U.S. KDE contributors.  Anyone who is interested can come to the Freenode IRC channel #kde-usa and sign up for the KDE-USA mailing list. If you are a KDE user in the U.S. and want a stronger KDE presence, there are ways for the US KDE community to organize. Get involved!

This work by KDE is licensed under a Creative Commons Attribution 3.0 Unported License.
---