KDE has announced its Version 4.9 Releases to KDE Plasma Workspaces, KDE Applications, and the KDE Development Platform, dedicated to the memory of KDE contributor Claire Lotion. The full announcement has details.
These releases got special attention to the general levels of quality and stability. In particular, there was a focus on eliminating any regressions from previous releases. Thanks to the efforts of the KDE Quality Team and its new contributors, the 4.9 Releases are the best ever.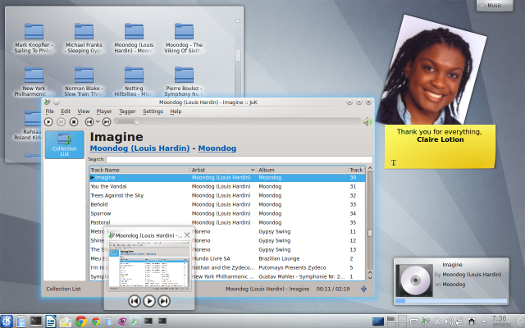 Plasma and Applications 4.9
Plasma Workspaces, Applications, and Platform Releases
Substantial improvements were made to Plasma Workspace core components in this release. There are new KDE Applications and major improvements to Okular, Kopete, KDE PIM, education, games and others. The KDE Platform release includes quality improvements and preparation for Frameworks 5 based on Qt5. The announcements have more details.
Help Spread the Word
The KDE team depends on software developers. And non-technical contributors are also critical to success. Report bugs. Encourage others to join the KDE Community. Or Join The Game.
Please spread the word on the social web. Submit stories to news sites, use channels like delicious, digg, reddit, twitter, identi.ca. Upload screenshots to services like Facebook, Flickr, ipernity and Picasa, and post them to appropriate groups. Create screencasts and upload them to YouTube, Blip.tv, and Vimeo. Please tag posts and uploaded materials with "KDE". This makes them easy to find, and gives the KDE Promo Team a way to analyze coverage for the 4.9 releases.
Follow what is happening on the social web at the KDE live feed, buzz.kde.org. This site aggregates real-time activity from identi.ca, twitter, youtube, flickr, picasaweb, blogs and other social networking sites.
---