As of now, the fund drive for the Randa Sprint has exceeded the goal. That's right, our Community generated over 10,000 € from 287 awesome supporters to make the meeting happen! The Sprint started yesterday evening; the fundraising is staying open for people who want to contribute. Any further donations will go towards future sprints funding. Follow the action in Randa on this twitter stream and here on Google Plus. And look for posts on Planet KDE (Trever said 'hi' already) about the event! There will be a comprehensive report after the Sprint.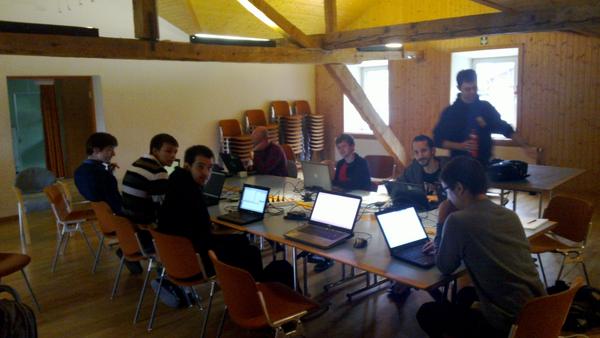 Commence Randa hacking
Thanks, Thanks, Thanks!
Thank you to everyone who contributed—either by donating (that's like 289 hugs from all of you to us!) or by spreading the word on the fund raiser. Martin already wrote a thank you blog about KWin and Wayland and e.V. Board member Lydia said thanks too. We are all very happy with the result! It is not just about the money—it also sends a message to us that you, our users, care.
Why we do this
Our contributors put in serious effort, more than most people realize. Writing code is fun, yes, there is the scratching of itches but in Free Software it comes with responsibilities, duties (maintainership), chores (bug reports, testing), sometimes less than positive feedback and other things which are not fun. It involves giving lots of free time; it is not uncommon for KDE contributors to put in unpaid vacation days or make less hours at work to be able to contribute. Really, not publishing your code is so much easier.
We do this for you. Without users, most of us wouldn't bother. While not all of us are deep believers in the Free and Open philosophy, at the very least we appreciate its benefits, the opportunities for less fortunate folks who can't afford closed software or whose governments spy on them. Children are using Free Software to learn about the world, we hear about small companies growing big which wouldn't have been possible without the Source, and it makes us happy.
All of this says, "We care". And that's why it helps so much if you show you care, too! That makes our efforts all the more satisfying. Your money doesn't go to the poor shareholders of fruit companies in dire need of shiny new stuff. It goes to make the world a better place, one line of code at a time!
What's the Deal with these Sprints?
As was written in the Dot story "Who is Randa For?", sprints are very important for our community and for you, our users.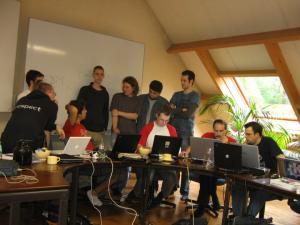 KDE Multimedia meeting nostalgia
The decision by KDE e.V. to spend most of our funds on developer meetings was made for a reason—sprints have proven themselves. Your writer vividly remembers one of the first 'real sprints'—the KDE Multimedia meeting in 2006 in the Netherlands (first day, second day, pics). This meeting was a major factor in bringing the Amarok crowd into KDE. At that time, they were contemplating going Qt only for Amarok 2.0. Instead, we now count many of the Amarok hackers among our friends, see them at KDE events, and receive valuable code contributions for other parts of KDE development!
Another meeting which had a great effect on the future of KDE was the first marketing and promo sprint ever in Stuttgart in 2009. This meeting energized the marketing and promo side of KDE and had a profound impact on our communication.
Since these 'early days' the number of sprints has increased. As shown on our sprint page, there have been about 20 meetings each year since 2009.
How You Can Help: Spread the Word!
Sprints are expensive and the economy is tighter than it has been in past years. We are grateful to the people who supported the Randa fundraising effort. But it's not right to depend on the same few hundred awesome donors (including quite a few who are already active KDE contributors!). Instead, the challenge is to reach the millions of KDE users who didn't even know about this fund raiser! Many of those would be happy to support the free software they use every day—if they just knew how to help.
So, the next time we do a fund raiser (and we will!), please support the effort in another very important way: help spread the word about it! You'd be surprised how far you can reach with your network on Facebook, Twitter, Google+ or just by talking to people.
Join The Game
There are many opportunities to participate in KDE for a variety of skill levels. And you can Join The Game to become a more permanent supporter of KDE and to contribute financially without waiting for the next fund raiser. And any further donations to this fundraiser will go towards future sprint funding. Last but not least, remember: Spreading the word matters!
---