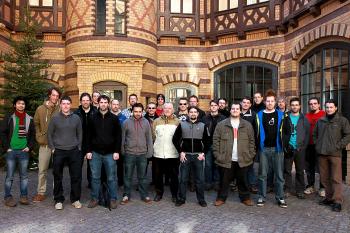 The Pimsters (
names here
)
Once most people had arrived at the KDAB offices in Berlin, the KDE PIM sprint started around 4 in the afternoon with an introduction by Till Adam. He welcomed everyone and issued a warning: there were only one-and-a-half crates of beer and all KDAB attempts at ordering more had failed. The participants would have to take care of this!
Friday beginnings
Cornelius then kicked off self introductions. The introductions suggested an in-crowd meme of "I do some random Kolab stuff" with Jeroen and Kevin claiming to "play around with IMAP", Volker (The Guru) topped everyone by mentioning that he's "done a patch or two to Akonadi". Nobody bothered being more modest than that. Following the introductions, tasks were brainstormed and written on sticky notes in the 'TODO' area on the whiteboard. Getting Beer became Task #1.
Work started and fun as well. In the hallway, the fussball tables were busy. With over 30 participants, the hacking room couldn't hold everyone comfortably. David, coming late, even had to bring his own table to the meeting and Ingo arrived just in time for dinner at 19:00. We had our evening meal at an Asian place. There was a little trouble fitting in so many people but it was fun. A Spaniard had to tell the Indian guy what to eat ... We'll leave the results to your imagination.
Saturday continuations
On Saturday, Popcorn once again joined the sprint and attempted to help the PIM hackers hunt bugs while simultaneously entertaining them. During the course of discussions, it was decided to drop the KDEPIM coding style for the KDE Libs coding style. And a list of GSOC ideas was brainstormed. Till gave an update on PIM/KDE on Win/Mac, promising an installer Coming Real Soon™. There was also talk about Frameworks 5; it was decided to wait until the dust has settled a bit before taking KDEPIM fully in that direction. In some areas however, there will be movement right away as kdepimlibs is already being compiled against Frameworks 5 and some Time/Date-related code is going into Qt5.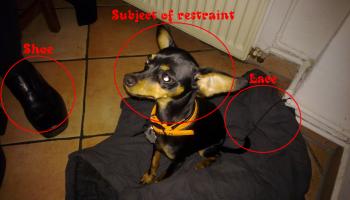 Prisoner was taken but the laces did not hold.
It had taken a while for Task #1 (Get Beer) to be achieved and the fussball tables were fired up again. There was a Nepomuk discussion about how to improve performance and give a smoother experience to users. The Saturday evening meal was in a Greek place near the office. Popcorn joined her fellow hackers, but didn't have a leash; Jeroen insisted on using his shoe laces for this purpose, which did not survive the night. But for a while, Popcorn was constrained to barking from a corner of the table.
Sunday endings
End users were again the focus of the marketing meeting on Sunday. Much work has been done lately to modernize the Kontact architecture. The quest for this sprint was to find the remaining major blocks for Kontact users. The group made a list of the most serious issues; anything that can't be fixed will be disabled until a proper fix can be found. Negative attitudes about KMail are frustrating, especially when they come from within the Community. Yes, KMail has been around a while, and people would enjoy a new mail client based on Akonadi (which shouldn't be too hard). But venerable KMail is still by far the best Free Software mail client on Linux, years ahead of the competition. The negativity feeds a vicious cycle—KMail can be improved, but development work is not satisfying when this general attitude prevails. So developers don't want to work on it. The group discussed ideas for promoting "eat our own dogfood", including "I use KMail" and "I have a good Kontact experience" stickers. Popcorn loved this idea. Suggestions for artwork are welcome!
There were discussions about the future of calendaring, and a first draft of QML components was created for calendaring. Sandro Knauß had been annoyed with issues about encrypting and signing emails with unicode characters and had joined the sprint in order to fix those. Which he did! And there were many more subjects as well as hacking and coding, fussball, and the deep philosophical inquiries expected at any KDE Sprint. As a relatively new participant remarked: I can't wait for the upcoming Akademy. These sprints are awesome and everybody says "wait until you've been at Akademy, it's 10 times more cool".
Conclusions
All in all, barking, epic fussball losses and grouphugs included, it was a fun and productive meeting again. More happened than is reported here ... in summary, good code was written and there is significant progress with KDE PIM. The decision to get as many fixes as possible into the 4.10.2 release will benefit users of most major distributions in the short term. In the longer run, code is being written to bring in new functionality as well, giving users something to look forward to.
We all look forward to meeting again at Akademy to assess progress and work further on bringing KDE PIM to enlightened, freedom-loving people around the world.
---