The main event on the KDE Calendar has begun. Akademy 2013 in Bilbao, the Basque Country, Spain is underway.
Akademy Day Zero
Akademy 2013 activities got started on Friday, 12 July with the KDE e.V. Annual General Meeting (AGM). In the evening, people picked up their badges at early registration and partied at Hika Ateneo in Casco Viejo (Old Town Bilbao). As usual, people were delighted to see each other in person after working all year by IRC and email. Even first time attendees felt right at home. One person said, "It's amazing to see the face of someone I only know by their IRC nickname." The entertainment was live jazz featuring the leader of the local Akademy team, Danitxu (Dani) Gutiérrez Porset, on the trumpet.
Akademy Day One
Akademy officially started on Saturday, 13 July 2013. A closely associated event, Akademy-es—the annual gathering of KDE-España—took place on the preceding Thursday and Friday with presentations in Spanish and Basque. KDE-España is the legal representative of KDE e.V. in Spain.
Keynote and first talks
The opening keynote talk by Eva Galperin from the Electronic Frontier Foundation revealed the impact and implications of NSA (U.S. National Security Agency) surveillance and other offenses to privacy. Eva gave an overview of these intrusions and described how almost all networking companies support it. Governments regularly buy software to spy on citizens—their own and others. To KDE developers, Eva implored, "You're the developers. You're our last and only hope. Build encryption software. Save us."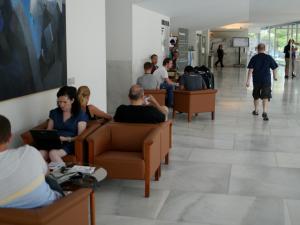 The hallway during talks By Knut Yrvin
Following the keynote, talks commenced.
Kevin Krammer spoke about declarative widgets as KDAB has developed them. He showed how QML with widgets can create impressive UIs in a small number of lines of clear and easy to understand code. In his first demo, Kevin did some live coding, drawing applause several times. He explained some of the goals and considerations behind these technologies. He then showed how a single application can have significantly different user interfaces: one for users, another for staff and administration, and a developer UI incorporating all the others, which can load each of them with ease. Kevin also spoke about how the benefits of various interfaces to the same application go beyond different devices and formfactors. In the Q&A that followed the presentation, there was a question about the relationship between declarative widgets and the new widgets in Qt 5.1. Kevin sees declarative widgets as a step in moving from a traditional widget-based application to the flexibility of QML.
Marta Rybczyńska spoke about her involvement with two different KDE projects. She noted their similarities which suggest principles that might help every project. Some of the commonalities were code re-use, openness to change, and the importance of publicity/promotion.
With the coffee breaks, questions and discussions moved to the hallways. Everybody mingled in the entry area to grab some juice, water or coffee and talk to one another. Lots of saying hi to friends!
Till Adam spoke about the Nokia N9 and about Blackberry and its platform. He called on KDE developers to get Frameworks 5 done. Till asked, "How hard can it be? Let's kick the project into gear, get the modular libraries ready, and offer them to the Qt world!" He recalled his statements at the Desktop Summit 2011, when he claimed that KDE development was spreading itself too thin and that KDE should focus on being the best Desktop on Wayland on Linux. That goal is still right in Till's view. However in reality KDE must work with more platforms to remain relevant. "The world is complicated, deal with it!"
Myriam Schweingruber was scheduled to talk on Quality, Quality, Quality, but she was unable to attend. Her topic was covered well by David Edmundson (KDE Telepathy), Vishesh Handa (Nepomuk) and Martin Gräßlin (Kwin). The takeaway for developers: focus, focus, focus. Only add features that are needed and can be supported; only allow bug reports you will read and respond to; make sure you get testing of *all* features.
David Greaves, ex-MeeGo and now Mer (employed by Jolla and at his first Akademy) has been KDE user and Qt hacker for a long time. He went over some history behind Mer and MeeGo, starting at the point where the big guns left and things moved in different directions (different, as in several at once). There are now teams like Plasma Active, Jolla and other projects building on Mer. Its modularity allows for a wide set of usecases. David covered several technical points, drawing questions on build technologies and some of the choices that the Mer Project made.
Second keynote; more talks
The second keynote was presented by Vesa-Matti Hartikainen (veskuh on IRC) from Jolla talking about the Jolla phone and the Sailfish OS, which is based on the Mer Project Core OS and Qt/QML. Veskuh did a live demo of the Jolla phone. KDE developers want the phone already.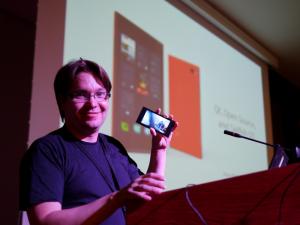 Jolla will be done when it's done By Knut Yrvin
Lydia Pintscher addressed the topic of burnout in Free Software projects and how to avoid it. People really love what they're doing and take on too much. This can lead to the feeling of being the only one who can do certain things. Lydia talked about how to notice when you or someone else is close to burnout, and gave some valuable tips for avoiding getting burned out:
If you feel burned out, talk about it with someone you trust.
Do something else for a while.
Ask for help with your tasks.
Learn to delegate even if it seems like explaining the task to someone else will take more time than fixing the issue yourself. Delegation will pay off because there will be more people who can help.
Most importantly: learn to say no.
Avoiding burn out will help you to stay a happy KDE/FLOSS contributor and allow you to keep having fun. Lydia said, "A cranky, burned out you is much less useful than you think". Accept that others can take over your job and help you. Sometimes, it's just good to sit back and not do something. Ignoring things often makes them go away.
KDE India
Devaja Shah and Yash Shah talked about the awesome KDE India event. Yash explained how he got inspired at meetings like Randa to organize it. Devaja explained that their goal was to share the enthusiasm of KDE, show how our community is open, inviting and interesting; inspiring visitors, sharing knowledge and bringing them up to speed on our technology and culure. The team learned a lot themselves and helped create a new generation of brilliant, cool KDE people from India!
An important lesson from this talk is to believe in yourself and in the idea. People were skeptical that a young student could organize a great event at the local college. But working as a team, something awesome happened. The team learned the practical lesson that it's necessary to promote and communicate the event well to make sure you reach the right audience. Yash and Devaja talked about the ways they spread the word about the event. The team of students from the Dhirubhai Ambani Institute of Information and Communication Technology even organized visits to other colleges to invite students! Yash ended with sharing the exciting news that there will be another KDE India conference and also that a legal organization will be created in India to represent KDE Volker Krause commented about the impressive work done by KDE India.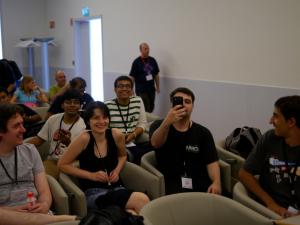 Shooting back By Knut Yrvin
Afternoon sessions
Martin Gräßlin talked about Porting KWin to Qt 5. Martin gave a great tech talk about changes in KWin that are due to changes in lower level layers.
Jos Poortvliet started his talk, "Marketing KDE", with the question: Does KDE still matter? He cited statistics from a recent study by Deloitte and qualitative factors that show KDE with substantial opportunities. Yes, KDE still matters. Jos then laid out 3 strategies that can be implemented without much delay:
Customers - understanding customers and then delighting them with technology and with other aspects of KDE
Qt - taking responsibility for making KDE better known in the Qt ecosystem
Grassroots/KDE to the People - KDE is one of the largest free software communities in the world. Local KDE enthusiasts need tools and organization to promote KDE. Leaders are also needed.
Stay tuned
Akademy 2013 continues tomorrow with more talks. BoFs and workshops begin on Monday.
Pictures
Photos are appearing online. Check them out and publish yours at the Community wiki.
About Akademy 2013 Bilbao, the Basque Country, Spain
For most of the year, KDE—one of the largest free and open software communities in the world—works online by email, IRC, forums and mailing lists. Akademy provides all KDE contributors the opportunity to meet in person to foster social bonds, work on concrete technology issues, consider new ideas, and reinforce the innovative, dynamic culture of KDE. Akademy brings together artists, designers, developers, translators, users, writers, sponsors and many other types of KDE contributors to celebrate the achievements of the past year and help determine the direction for the next year. Hands-on sessions offer the opportunity for intense work bringing those plans to reality. The KDE Community welcomes companies building on KDE technology, and those who are looking for opportunities.
For more information, please contact The Akademy Team.
The dot team thanks everybody at Akademy for the writing help!
---