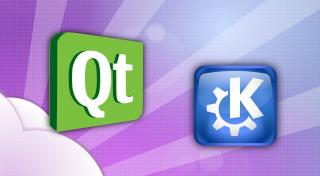 Today KDE makes available the first beta of Frameworks 5. This release is part of a series of releases leading up to the final version planned for June 2014 following the second alpha last month. This release marks the freeze of source incompatible changes and the introduction of the Frameworks 5 Porting Aids.
Frameworks 5 Porting Aids
To ease the porting of KDE Platform 4 based applications, the Frameworks team has brought the 'Porting Aids' group into existence. These Frameworks contain kdelibs4 modules and API's that are being deprecated in KF5 and are provided only to assist applications in porting to KF5. As such these Frameworks will only have a limited support period, currently planned to be three release cycles. Application developers are strongly encouraged to port away from these Frameworks during this support period to prevent dependency on obsolete and unsupported code. Once support is ended, some unofficial development may continue on some modules, but they will not be part of the officially supported Frameworks release.
Currently, the following Frameworks belong to this group:
khtml
kjs
kjsembed
krunner
kmediaplayer
kdelibs4support*
* kdelibs4support contains deprecated API's from modules which no longer exist or deprecated classes from existing modules.
See the announcement on kde.org for more information and links to downloads. For information about Frameworks 5, see this earlier article on the dot.
---