Plasma Media Center 1.2 was released as a Christmas gift. Now, we bring to you Plasma Media Center 1.3! As always, we have made sure to make it easier to enjoy your favorite videos, music and photos - both from your collection as well as online sources. A big focus has been performance improvements when showing you the media on your computer as well as general polish for the UI.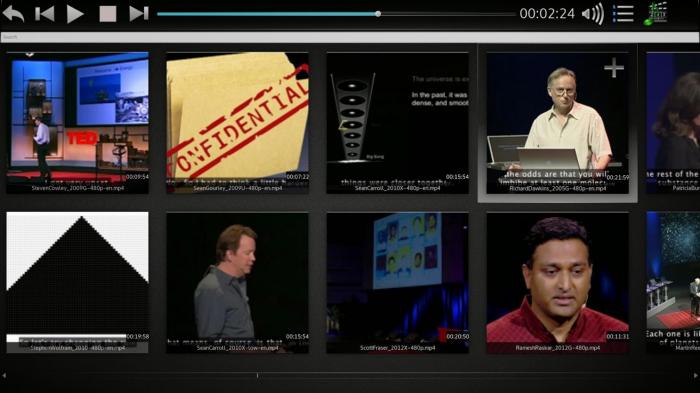 Plasma Media Center in action
What is new?
Support for fetching media from Baloo
Plasma Media Center now supports fetching your media collection from the new KDE Semantic Search - Baloo.
This means your media library loads faster than ever. However, PMC continues to support Nepomuk if you have KDE libraries installed.
MPRIS support
This lets you use any sort of controller that supports MPRIS to control PMC - this ranges from taskbar previews, Now Playing plasmoid and many more!
(Experimental) support for a simple filesystem based media scanner
For when you don't have Nepomuk or Baloo installed
More details in All Music mode
We now show more details about media in the All Music mode, like artist, album and duration.
Improved GStreamer compatibility
A conflict between GStreamer0.10 and GStreamer1.0 in some distros will no longer break playback (Launchpad Bug)
We now have tests for the PMC core libs
This will lead to less bugs in the future!
Numerous bug fixes and UI polish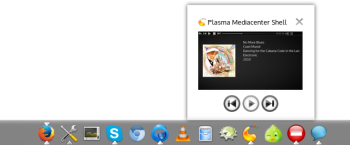 MPRIS support allows deep desktop integration
Installing PMC 1.3
Here is the source tarball link.
Follow instructions here to install Plasma Media Center on your machine from source. For binary packages, check with your distro if they have. If you're a packager (or know someone who is), we will be glad to help if you have any questions.
Learning more and contributing
To know more about Plasma Media Center, check out the wiki. If you want to contribute, this will get you started.
Bugs
Found any bug in PMC or want to have your favourite feature included in future release? File a bug!
Coming up
While this release was more focused on switching desktop search and UI polish, we have some exciting features lined up for the next release. These include:
Plasma Media Center for Plasma Next - your Plasma desktop will magically transform into a Media Center (current status)
DVB support (i.e you can watch TV in PMC if you have DVB at your home) (current status)
Voice recognition support - so you say it, we play it! (current status)
And some more surprises ;).
Thanks to all the developers, testers and people for useful feedback on improving Plasma Media Center. And of course a thanks to all our users: we hope you enjoy the new release!
---