The talks weekend at Akademy finished with the traditional announcing of the Akademy Awards, our recognition of the stars of KDE. The winners are selected by those who received the award the previous year.
Winners for 2014 are:
| | |
| --- | --- |
| | Application Award: Jean-Baptiste Mardelle for his work on Kdenlive, the leading video editing application which is now part of KDE. |
| | Non-application Award: Michael Pyne for eleven years of kdesrc-build and its previous incarnations kdecvs-build and kdesvn-build which makes it easy to compile all of KDE Software. |
| | Jury Award: Ben Cooksley for planning our systems and keeping them running smoothly. |
| | And two special thank yous went to Claudia Rauch for making sure we were successfully organized, plus Daniel Vratil and the Akademy 2014 team. |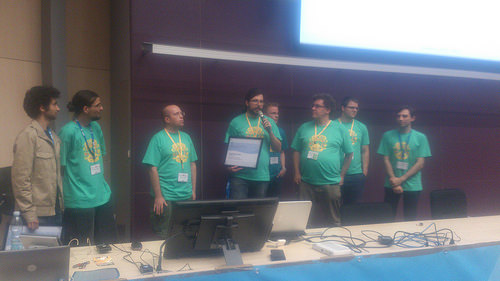 Dan accepts the Akademy 2014 organizers' certificate.
---