KDE is thrilled to announce the first at-large version of KDE neon User Edition.
KDE neon User Edition 5.6 is based on the latest version of Plasma 5.6 and intends to showcase the latest KDE technology on a stable foundation. It is a continuously updated installable image that can be used not just for exploration and testing but as the main operating system for people enthusiastic about the latest desktop software.
It comes with a slim selection of apps, assuming the user's capacity to install her own applications after installation, to avoid cruft and meaningless weight to the ISO. The KDE neon team will now start adding all of KDE's applications to the neon archive.
Since the announcement of the project four months ago the team has been working on rolling out our infrastructure, using current best-practice devops technologies. A continuous integration Jenkins system scans the download servers for new releases and automatically fires up computers with Docker instances to build packages. We work in the open and as a KDE project any KDE developer has access to our packaging Git repository and can make fixes, improvements and inspect our work.
With the major infrastructure now in place we will start adding continuous builds of all KDE applications and projects.
Before installation of KDE neon User Edition, we suggest you read the release notes, eye over information about the latest release of Plasma, check minimum requirements, notable issues and follow the install instructions.
For developers and advanced testers we have the KDE neon Developer Edition available with the latest in-development Plasma straight from Git.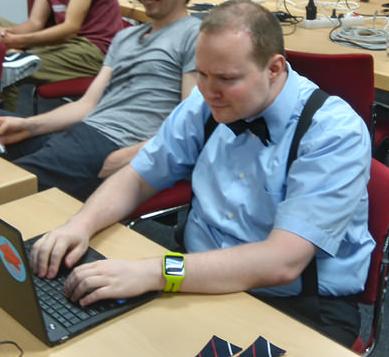 Hard at work on KDE neon
KDE neon Developer Editions are also available for those wanting to test the latest code straight from Git, either stable or unstable branches.
"We're really exited to be bringing KDE software directly to users who are enthusiastic about open source and picky about their operating system," said KDE neon developer Jonathan Riddell "although there will always be plenty of options for getting KDE software, by working directly with the KDE teams writing the software and using modern deployment techniques we aim to give the best experience to the fans that they deserve."
---