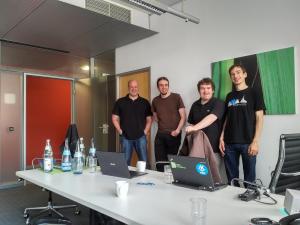 At a meeting back in July in Stuttgart, KDE and Nextcloud developers discussed deeper integration between the respective communities. We'd like to share some of those ideas and, as always, invite anyone interested in participating to help make it happen!
Deeper Plasma integration
A feature that has been discussed is synchronization of settings, password and file metadata over cloud servers.
The fork of Nextcloud from ownCloud has brought about new questions regarding this topic: Will the Plasma team have to support two different systems? It would obviously be vastly preferable if both cloud implementations could be supported with one client, which would require collaboration between ownCloud and Nextcloud. The Plasma team has communicated this requirement for both parties. From an implementation point of view, at least Nextcloud features a key-value store which could be used to store client settings.
Another area with room for improvement is syncing tags, ratings and comments. Nextcloud offers these and would be able to sync them.
Implementation
The most important part would be to write an Online Accounts module so you can setup Nextcloud to begin with.
It needs to be evaluated how setting up Nextcloud in there could affect KDE-PIM (ie. automatically set up Nextcloud calendar in Akonadi etc or vice-versa, if it's already setup in KDE-PIM migrate that to Online Accounts) and to automatically set up the calendar in Plasma.
What's next is, of course, to get to work. If you're interested in getting involved, let us know!
---