The last two weeks have been busy for the KDE Community. On April 20 we announced the release of KDE Applications 17.04, and five days later we released a new set of bugfixes and translations for Plasma, officially versioned Plasma 5.9.5.
Both new versions of our products have introduced several features and stability improvements to the overall KDE user experience. Here are some of the highlights from the latest KDE Applications and Plasma releases. As always, you can find a lot more information in their respective changelogs.
What's New in File Management?
If Dolphin is your file manager of choice, you will be happy to hear that it now allows you to interact with the metadata widgets in the tooltips. The Places panel now has better context menus, and opening a new instance of Dolphin using the "New Window" option will launch it in the same target folder as your current Dolphin window.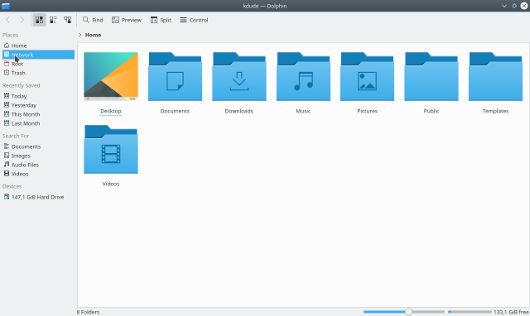 A significant change that affects not only Dolphin, but also Kate and KWrite, is that launching these applications as root on Linux systems has been disabled by default. The reason for this is that it is a safety risk to run GUI apps with root privileges in the X Window System (X11).
When it comes to viewing your files, Okular will be even better at it thanks to numerous improvements. You can now create bookmarks from the Table of Contents, resize annotations, and disable automatic search while typing.
Finally, Ark - the application that lets you manage compressed files and folders - now has a handy plugin configuration dialog and a Search function to help you look inside your archives.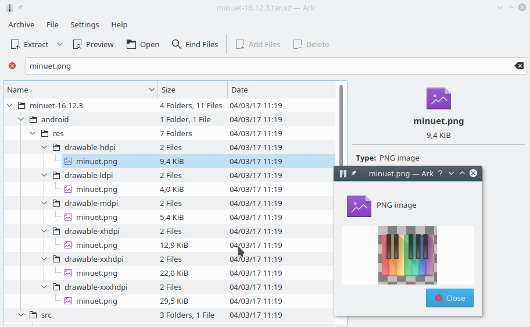 What About Multimedia Applications?
The biggest improvements in the multimedia department will be visible in Kdenlive, KDE's video editor. The profile selection dialog has been fully redesigned, and it is now much easier to tweak the framerate, screen size, and other details of your project. Perhaps the coolest new feature in Kdenlive is the ability to play your video directly from the notification you receive when rendering is completed.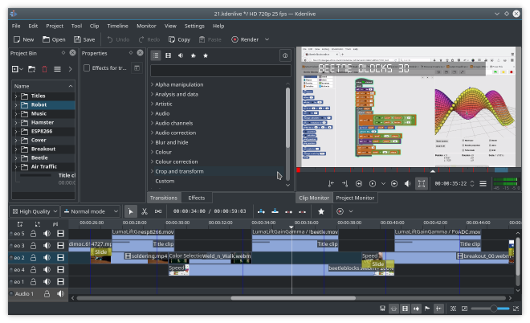 Other multimedia applications received some minor improvements, for example Gwenview now lets you hide the status bar in the application window.
Don't Forget About KDE Edu!
Our educational applications have seen some interesting changes. KAlgebra - the powerful graphing calculator and math-learning tool - has a new 3D back-end on the desktop, and its mobile version has been ported to Kirigami 2.0.
If you love music more than math, the new version of Minuet will delight you. The music education tool now comes with more scale exercises and ear-training tasks, plus an entire Test Mode for practicing and monitoring your progress.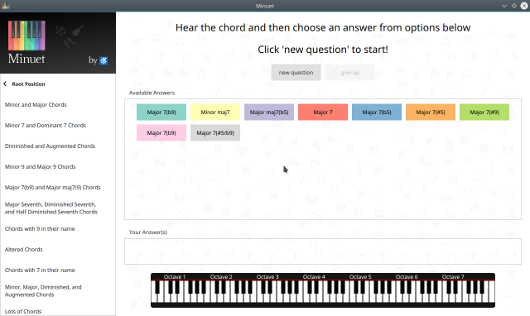 KStars, our desktop planetarium, will now work much better on OS X, and KGeography now includes a map of Ghana.
New Members of the KDE Applications Family
We are happy to announce that K3b, the disk burning software, is now part of KDE Applications. In other great news, several applications have been ported from their old kdelibs4 base to KDE Frameworks 5. The list includes KCachegrind, Kajongg, kde-dev-utils and kdesdk-kioslaves.
No longer included in KDE Applications is the unmaintained development tool Kommander.
What About the New Plasma?
The most obvious changes introduced in Plasma 5.9.5 are related to window decorations and other visual tweaks. Themes in the System Settings module are now sorted, Plastik window decoration supports the global menu, and Aurorae window decorations support the global menu button. KWin will respect theme colors in buttons, and you will be able to edit the default color scheme of your Plasma Desktop.
Moreover, your Plasma session will correctly handle the event of disconnecting a primary screen and replacing it with a new one. The Media Controller Plasmoid has been fixed, and can now properly seek tracks longer than 30 minutes.
Where Can You Get All These New Things?
Both KDE Applications 17.04 and Plasma 5.9.5 are available in KDE neon. Linux distributions are expected to provide packages or update their existing ones in the coming weeks. Users of Arch Linux, Manjaro Linux, and Gentoo should already see our latest software in their repositories.
If you can't wait for your distribution's packages, you can always download our source code and compile it yourself. We provide build instructions for both KDE Applications and Plasma.
What's Next?
Plasma 5.10 is expected at the end of May. If you have been following our developers' blogs, you might be aware of some upcoming features. Folder View will have a much more prominent role on the Plasma Desktop, and it will include practical spring-loading navigation.
A lot more is in the works, and we will reveal some of the novelties as the release date approaches. Make sure to follow us on Twitter, Facebook, and Google+ to keep up with all the news. If you're planning to celebrate the release of Plasma 5.10 by hosting a release party, start preparing now! Our Community Wiki has some tips on how to organize a local KDE event.
In the meantime, let us know about your experience with KDE Applications 17.04 and Plasma 5.9.5 in the comments!
---