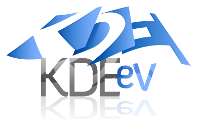 The KDE e.V. community report for 2016 is now available. After the introductory statement from the Board, you can read a featured article about the 20th anniversary of KDE, and an overview of all developer sprints and conferences supported by KDE e.V. The report includes statements from our Working Groups, development highlights for 2016, and some information about the current structure of KDE e.V.
Featured Article – 20 years of KDE
In 2016, all of us celebrated 20 years of the KDE Community with a number of parties around the world. We participated in the awesome QtCon in Berlin, announced the book 20 Years of KDE: Past, Present and Future and the KDE timeline. In this featured article, Lydia Pintscher brings back the early KDE impetus for digital freedom that still remains alive in every contributor's soul.
Supported Activities and Specific Reports
The report provides summaries of eight KDE e.V. supported developer sprints and six trade shows and community events where the KDE Community had its presence. Specific reports from the KDE e.V. Working Groups and KDE España are also presented. Finally, the report contains development highlights for 2016, and a short overview of mentoring programs in which KDE has been involved.
Results
The report concludes with a list of contributors who joined KDE e.V. during 2016, and presents the current members of the KDE e.V. Board of Directors. We invite you to read the entire report!
---