Working Groups, Plasma, Networks and the Life Story of a Born Hacker
The day started at 8:00 UTC sharp with four very interesting lightning talks. Kai Uwe Broulik talked about how to become productive using Plasma at home. He pointed out tips and tricks that allow you to avoid interruptions and improve your time working from your couch.
Niccolò Venerandi explained from experience how to grow a KDE Video Community. Niccolò runs a fledgling and upcoming YouTube channel and gave advice on how to manage your content and even how to successfully monetize it.
Alexander Saoutkin talked about KIO FUSE and how it brings a slew of useful features that help integrate remote file systems into the local one.
Rohan Asokan talked about Kalk, his first OSC project and his first experience developing for KDE. His story was an uplifting look into how you can get started in Free Software development.
At 9:00 UTC, Aleix Pol, Adriaan de Groot, Eike Hein, Lydia Pintscher and Neofytos Kolokotronis delivered their traditional yearly live KDE e.V. Board report. The Board members gave an overview of the activities carried out over the last year and provided an outlook for the next. Highlights included employing more contractors to carry out vital KDE work, plans for upcoming events and sprints (in person at last!), and the plans for KDE's 25th Anniversary happening later this year.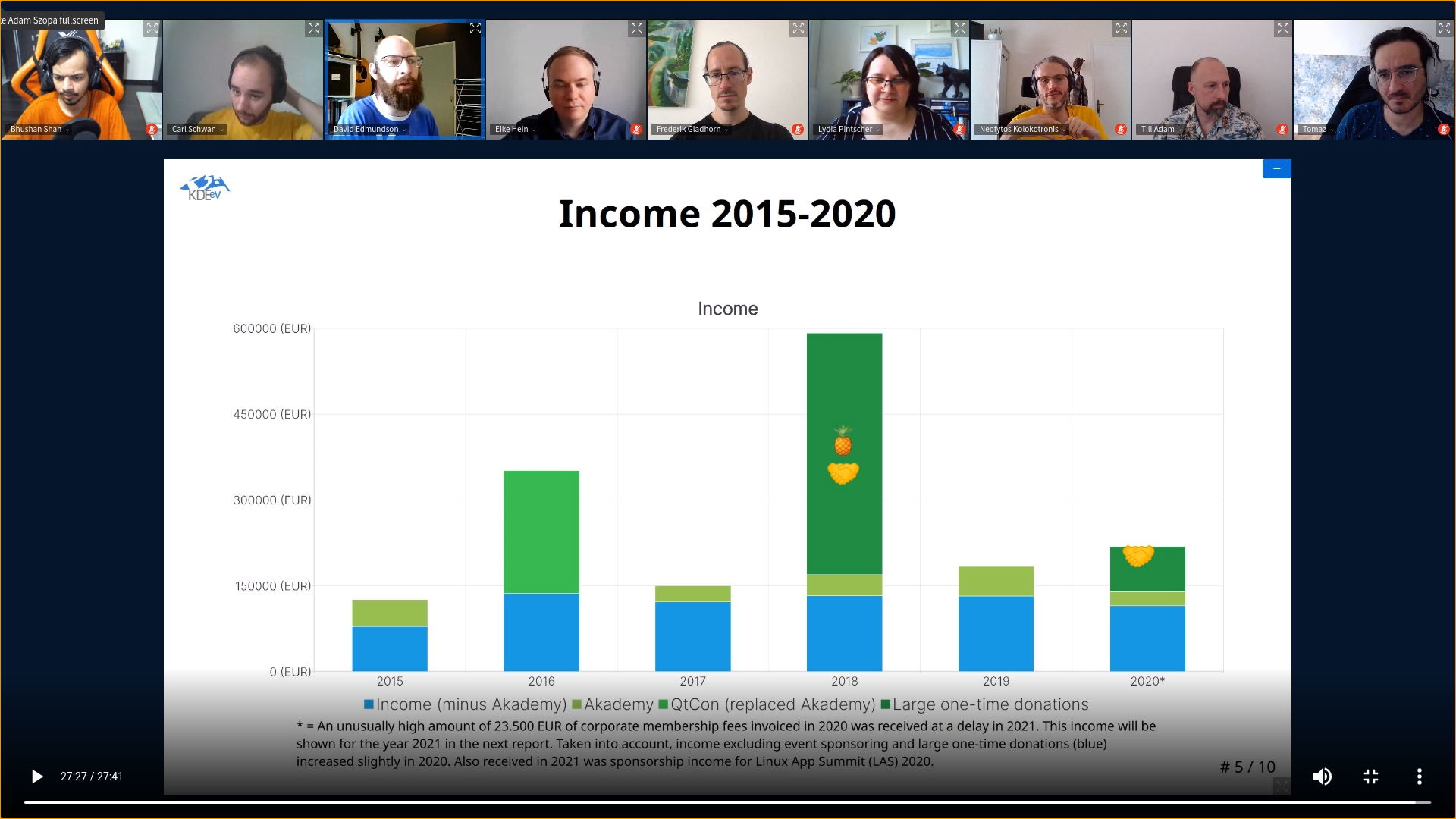 This was followed by KDE's working groups' reports. Tomaz Canabrava kicked off things by telling us about the Community Working Group, the group of valiant volunteers who tackle conflict resolution within the Community. Although 2020 was rough for many reasons, the CWG managed to solve disputes and added a new member to their ranks.
Frederik Gladhorn and Olaf Schmidt-Wischhöfer told us about the KDE Free Qt Working Group. The KDE Free Qt Foundation is in charge of maintaining and managing the agreement between KDE and the Qt Company regarding the licensing as free software of the Qt framework. The working group is supporting the members of the foundation and helped setting up KDE's Qt 5 Patch Collection.
Bhushan Shah then introduced the work being carried out by the Sysadmin Working Group. The list of tasks and achievements completed by KDE's sysadmins over 2020 is too long and impressive to list here, but, the highlights include setting up the Big Blue Button infrastructure for KDE events and sprints, upgrading and modernizing KDE's server infrastructures so it can handle the increase in demands from the Community (it served 40 Terabytes only in April!), the implementation of MyKDE, which will soon substitute KDE Identity, and improved specialized services, like maps.kde.org, that serves maps and plans to KDE's mapping applications such as Marble and Itinerary.
Neofytos introduced the Advisory Board Working Group and explained its role as a point of contact for sponsors and members of the Advisory Board. Neofytos also introduced KDE's two new patrons: Pine64 and Slimbook.
The Financial Working Group reported that one time donations increased by 40% in 2020. These are donations made by private citizens. The income from student mentorships (GSoC, Code-In) decreased as the interest seems to be trending down for these activities. Meanwhile, major income sources remained stable, although financial assets grew in 2020. Hence, as a non-profit, KDE needs to spend more money and is currently doing so by starting to employ more contractors.
Carl Schwan introduced the Fundraising Working Group, the group that identifies fundraising opportunities. Carl introduced the new member of the group, Niccolò Venerandi, and told us about the updated relate.kde.org and donations pages.
Regular talks started again at 10:20 UTC, and Raghavendra Kamath told us how they built a new way for artists, users and developers to communicate in the Krita community using Discourse. Apart from the technical details of the implementation, Raghavendra explained different features and how they benefited the users.
Meanwhile, in room 2, Kai Köhne, from the Qt Company, talked about "Porting user applications to Qt" and how the release of Qt 6 is going. Kai explained that, although 6.0 was released in December, not all of Qt 5 was ported at that time. Gradually, over 2021, more and more Qt libraries and frameworks will be implemented into Qt6, reaching completion in early 2022.
Later, in room 1, Neofytos Kolokotronis delivered his talk "Developing products that break out of our bubble(s)" in which he presented the various levels of bubbles that KDE's products need to break out from in order to grow their userbase. He used examples from applications that are already doing well, and proposed candidates ready to travel outside KDE's orbit.
In room 2, Timothée Ravier introduced us to "Kinoite", a new immutable Fedora variant with the KDE Plasma desktop based on rpm-ostree, Flatpak and podman. Timothée explained how "Kinoite" improves the user experience with atomic and safe updates for the system (rpm-ostree), the applications (Flatpak) and development tools or containers (podman).
The morning sessions finished with Lydia Pintscher and Neofytos again in room 1 talking about "Making a living in KDE", and Arjen Hiemstra in room 2 with his presentation "Closing the distance between CPU and GPU with Signed Distance Fields".
At last year's Akademy, the KDE e. V. board announced that they were putting together an initiative to help people make a living with KDE products. In today's presentation, Lydia explained what they wanted to do in that regard and the plans for the future.
Meanwhile, in room 2, Arjen explained how traditional 2D rendering methods using exclusively CPU were missing out from using increasingly powerful GPUs. In his talk, Arjen described a technique called Signed Distance Fields, already in use in the KQuickCharts framework and ShadowedRectangle in Kirigami, that offers a very powerful tool for advanced 2D rendering.
After a break, the conference started up at 17:00 UTC again with sponsor talks. openSUSE, Canonical, reMarkable, Pine64, Shells and Collabora all sent video messages explaining what they do and wishing the Community a happy and productive Akademy.
In the first talk of the evening in room 1, Andreas Cord-Landwehr introduced us to "The Art of Logging", and showed us how the Qt logging framework worked and how one can access and analyze logs via remote access even using an embedded device, like a Plasma Mobile smartphone.
In room 2, Marco Martin talked about "Plasma internals: the next few years", where he talked about the move from Qt5 to Qt6. He explained that, while the port to Qt6 is not posing a technology challenge as big as when KDE migrated from Qt4 to Qt5, it does open the door to learning from the lessons of the Plasma 5 lifetime, and the possibility to refactor and simplify things in order to offer a leaner and more robust experience for users and developers alike.
At 20:20 UTC, David Edmundson presented "Addressing Wayland Robustness" in room 1, in which he talked about the current inherent instability of Wayland and how Plasma, as a late-adopter of the X Windows successor, could possibly avoid some of the issues that troubled other environments.
In room 2, Christian Strømme took us to another dimension with his talk "Qt Quick 3D in Qt 6.2". In his talk, Christian introduced us to Qt Quick 3D and its features and showed us how it could be used to create spectacular 3D renders and effects.
Later, Björn Balazs took to room 1 and told us "How we can solve the personal data problem". Given the issues derived from collecting and processing personal data, Björn provided in his talk a vision for the KDE Community of a system, that would be trustworthy, democratic, transparent and that guarantees digital privacy for each and every one. At the same time, it would provide fair access to personal data for those interested.
Meanwhile, in room 2 Igor Ljubuncic, aka "Dedoimedo", took us to Snaps, the final frontier with "Dev Trek - The Next Generation". In Igor's talk, he told us about the advantages of Snaps, self-contained applications, that boast reliable updates and a coherent behavior across a wide range of distributions.
Towards the end of the evening, Bhavisha Dhruve, Aniqa Khokhar, Aiswarya Kaitheri Kandoth and Tomaz Canabrava told us about KDE Network, the project that builds communities in places where Free Software adoption would otherwise be scattered at best. In the talk, the panel explained the achievements they have reached since the program began, and the upcoming projects they are currently working on.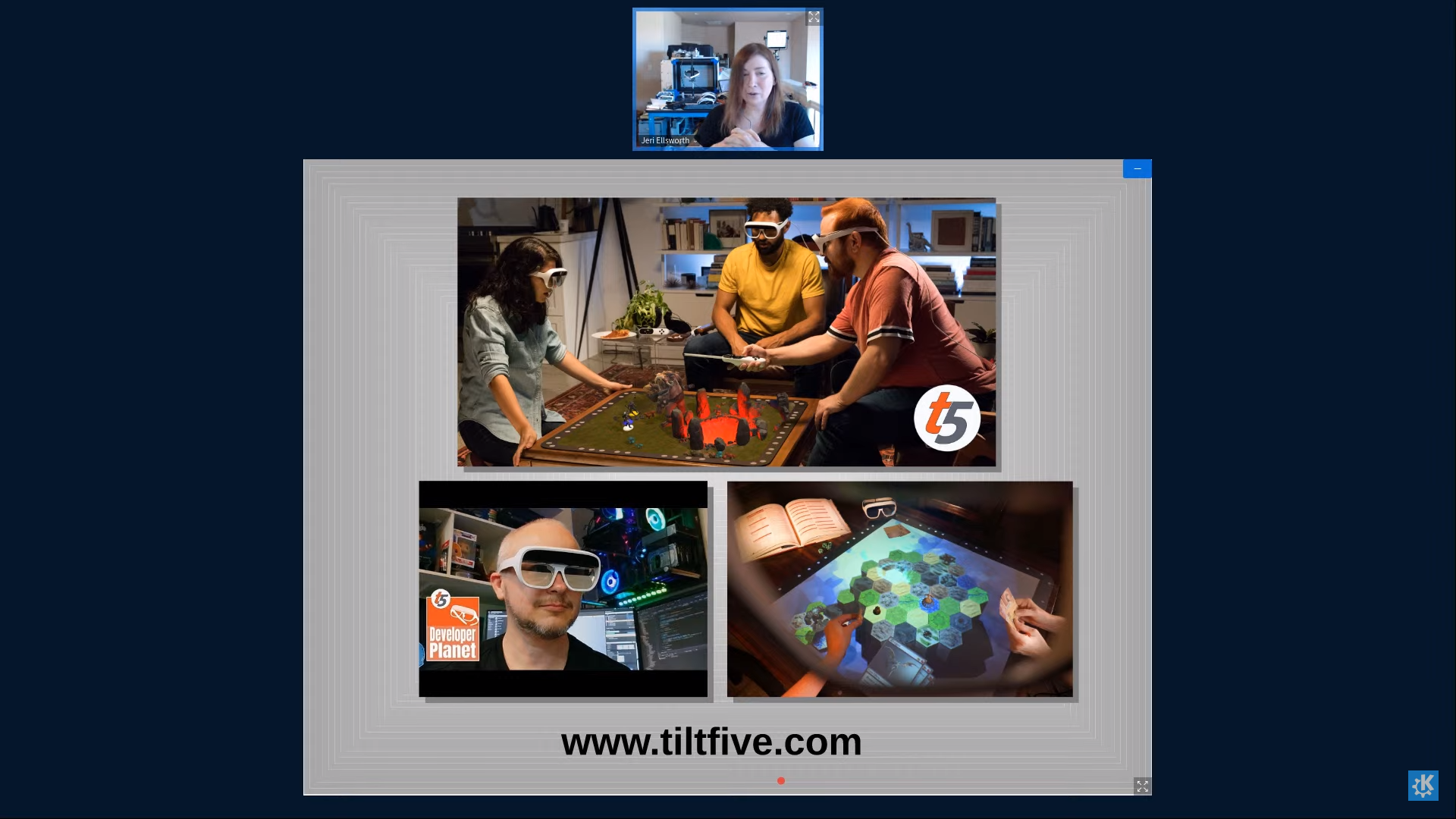 The last session was the keynote by Jeri Ellsworth, "Journey from Farm Girl to Holograms". Jeri is a maker extraordinaire, ex-Valve hacker, self-taught chip designer and inventor of a system for playing 3D tabletop games using Augmented Reality glasses. She told us how her mentors helped her become the successful techie she is today in a roller coaster of a story, with so many twists and turns, that this brief description cannot do it justice.
You will just have to hear it for yourself.
---
In fact, if you missed any of today's talks, you can catch up watching the raw unedited version of the footage on YouTube.
Although this is not the best way to watch the talks, and we are working on bringing you higher quality, nicely edited videos, if you can't wait, here are the links:
---