If you haven't heard yet, you've probably been under a rock since Thursday, but openSUSE 11.2 was released with KDE 4.3.1 as the default desktop.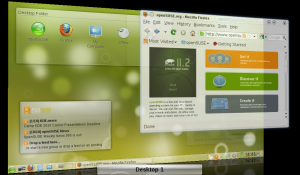 openSUSE 11.2 KDE on a Intel 945GM netbook
As well as all the features KDE 4.3 brings, the openSUSE team and community have worked hard to improve integration with frequently-used non-KDE apps such as Mozilla Firefox and OpenOffice.
Netbook and notebook users will like the new KDE 4 KNetworkManager and improved KDE RandR support for external monitors, and sensible defaults like automatically enabled Desktop Effects and opt-in indexing for desktop search make for a good out-of-the-box experience.
As usual, openSUSE 11.2 has the YaST do-it-all configuration tool, now completely ported to Qt 4, and KDE users will benefit from the new Desktop kernel, tweaked for desktop performance.
---