Part of the repositioning of the KDE brands was choosing an appropriate 'KDE Software Label' for developers working on applications outside the main KDE Software Compilation. Technology developed by KDE is used far and wide, as can be witnessed on kde-apps.org and other sites. Some of these applications are developed by people closely entrenched in the KDE community, others by developers who just happened to like KDE technology and don't feel part of the KDE community in any big way. To allow authors to express their connection to the KDE community, the KDE community has chosen three appropriate labels.
We are also presenting the first draft of a guide for distributors of KDE software on how to integrate their communications with our brands.
Acknowledging your relationship with the KDE community and its technology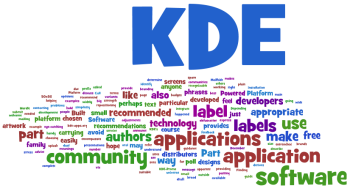 Finding the right words (via
Wordle
)
Back in December, the promo team asked for your opinions on suitable KDE software labels. Following the poll results these are the recommended labels:
Powered by KDE
Built on the KDE Platform
Part of the KDE family
'Powered by KDE'
This label encompasses the dual meanings of software that derives its strength from our fantastic community and from the KDE development platform. This label is recommended for all free software applications whose developers feel part of the KDE community or which make use of KDE technology.
'Built on the KDE Platform'
This label has been chosen for the simplicity of the message it provides: this application uses the KDE platform. It is recommended for all application authors who want to express their use of KDE technology.
'Part of the KDE family'
This label is recommended for authors of free software who in particular see themselves as part of the KDE community - and we hope anyone producing free software with the KDE Platform sees themselves this way.
Other terms
These are, of course, just recommendations. KDE is not going to dictate to anyone what labels they should use to describe their applications, but the community hopes that by providing these recommendations and (in due course) handy badges carrying these phrases, it will be easier for application authors to identify with KDE in a consistent and easily recognizable way. This makes the broad universe of KDE applications more readily apparent and allows third party developers to be part of the widely recognized KDE brand.
Developers may also like to call their free software applications "KDE software" or refer to their application with the prefix "KDE" - for example "KDE Kontact".
Call for artwork
To make these labels more easily usable, the promo team is calling for eye-catching artwork to carry, accompany or represent these phrases, for use on websites and perhaps in application splash and about screens where appropriate. Such images should be available in a small size (perhaps as small as 50x50 pixels) but larger variants are also needed. Please submit designs to the dedicated page on the wiki. Depending on the number of submissions the team may hold a poll to determine the best.
Guidance For Distros
The KDE promo team is also pleased to announce the first complete draft of the guide for distributors of KDE software, helping them integrate KDE branding into their own.
The guide provides examples for installation screens, website text and oral presentations. The promo team welcomes feedback from distributors to the KDE-Promo mailing list so that they can understand communication problems experienced by downstream communities and adjust their recommendations accordingly.
---