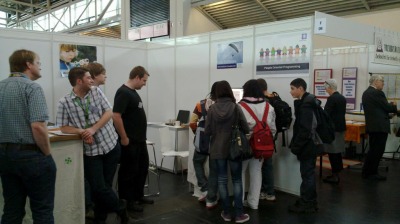 KDE and FSFE drew in the crowds
KDE was recently at the second Ökumenischer Kirchentag (Ecumenical Church Day) from May 12-16 in Munich, Germany. Representing KDE were Frederik Gladhorn, Daniel Laidig, Eckhart Wörner and Irina Rempt. They (wo)manned a booth among hundreds of other projects presenting aspects of life, the universe and everything, mostly from various Christian perspectives. The KDE community in general is of course secular (and should be), but our philosophy that software is primarily for people and should be freely shared fits admirably well with such an event. Thomas Jensch and (for one day) Daniel W of FSFE made it a successful joint enterprise.
The booth was rarely empty: all kinds of people, from small children (fascinated by Big Buck Bunny looping in a window) to seasoned Linux users (at least one of whom we could help by showing her how to make KMail behave) came by and stayed for a while to watch and talk. The team explained how the free-as-in-freedom aspect could help build a more just and equal world and how the free-as-in-beer aspect was useful for a tight church budget. In fact, the monetary question often didn't even come up as the social question was already reason enough for most people to be interested.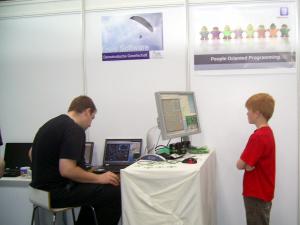 KDE: current and future generations
Thomas managed to get in touch with several high-up church officials, while the KDE team concentrated on the individual people and their needs and interests. All in all, it was a good thing to see that the free software world has become interesting enough for random people visiting a non-technical event. In some ways, going to this event may have had more impact, relatively speaking, than to the usual tech events: we could reach a new audience of people who had been completely ignorant of free software, Linux or KDE before.
Most memorable experience: the woman who wanted KDE software because if she had Palapeli, her husband would never have to complain about jigsaw puzzles on the dining table again.
---