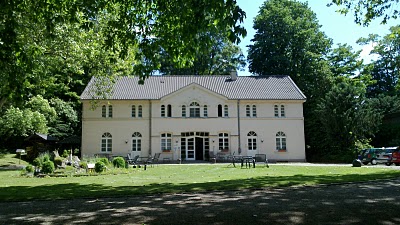 Hacking spot
Hot on the heels of the 2.2 release of KOffice -- the first release we feel that users can give a try and use for real work -- the KOffice developers met in Essen-Horst in Germany, in the wonderful Linux Hotel. Thanks to sponsorship by the KDE e.V. and the hard work by Alexandra Leisse and Inge Wallin, we could spend three days discussing and hacking.
With the weather being perfect, the hotel hospitable and the surroundings leafy and all a-twitter we not only hacked and discussed. There was time to relax over a beer, get to know each other a little better and stroke the hotel cat.
Friday was mostly spent hacking, reviewing each others' code and sitting outside and discussing the state of KOffice until very late in the night. The next morning, Saturday, saw the start of a very long and rather gruesome meeting. No hacking, only a few coffee breaks and one pizza break. This day was devoted to three main topics: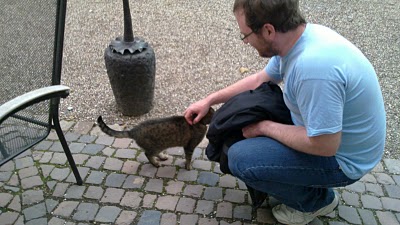 Dangerous animals!
How can we reach out and gain a real userbase
How can we gain more developers (keep in mind that many applications of KOffice have only one, or even no, regular developer working on them!)
How can we keep our work on KOffice relevant in what promises to become interesting times
The meeting notes are on the developer wiki.
Nokia sponsored not just the Saturday dinner but also the Sunday lunch, which was pizza again, for which many thanks from everyone present!
Saturday night again was most spent hacking, comparing notes, benchmarking ODF loading and similar things and drinking Slovakian peach liquor.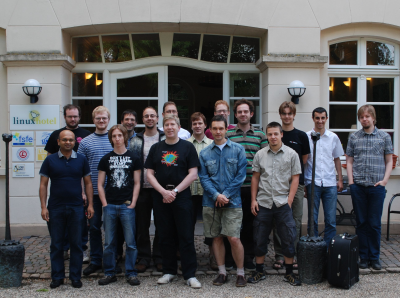 Group photo
Sunday was a lot more technical than Saturday: we discussed text rendering, which is still a sore point, a new architecture for file filters, text layout problems, charting issues and separating the user interface from the core even more. This is something that Nokia has quite some experience with, having developed a completely new user interface on top of the KOffice applications, and we're keen to pursue this path even further.
All in all, the attendants agreed this was a really positive sprint in a relaxing atmosphere. Many decisions have been made and a lot of work got done!
---