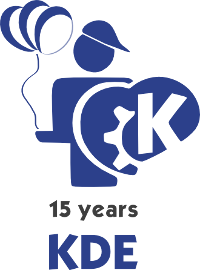 On October 14, 1996, Matthias Ettrich posted a message to Usenet (comp.os.linux.misc), announcing "Programmers wanted!" for a "New Project: Kool Desktop Environment (KDE)". Now, 15 years later, Matthias's dream of a "GUI for an ENDUSER" has been fully realized. And more. Sometime in the next 2 weeks, Plasma Active One will be released, extending Matthias's plan for a "modern interface" with a "common look & feel" to a range of enduser devices from desktop to mobile. KDE has grown beyond a Linux Desktop GUI to a global community of people. But it still has the same innovative spirit and a commitment to serving users of Free and Open Source Software.
This calls for celebration!
We're having a global 15th birthday party for KDE. And you're invited! The entire KDE community can't get together in person. So we're partying virtually. All day, all around the world, on October 14th.
Help make it a BIG EVENT:
Have a party
With a KDE birthday cake!
Celebrate your commitment to freedom with Kool photos
Go big like they're doing in Spain
Bring the KDE community to your party with status updates and other social media
Email your plans, photos and event happenings to

[email protected]

Volunteer to translate the October 14th and follow up Dot stories. Think global. Party local.
Invite others in your community to share the bounty and beauty of KDE
Test 15 bugs to see if they're still relevant
Make a gift of €15 or contribute in some other way
For 15 minutes—test an app and file bugs, update KDE userbase, answer questions on the forum, hang out at #kde on freenode IRC
Use hashtag #kde15 to share your plans and partying
Take a look at where KDE started and the amazing accomplishments since then. Even if you're hardly involved, this is an inspiring milestone in a massive collaborative project that has benefited so many.
October 14th—a global celebration of freedom and achievement!
---