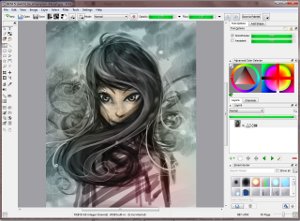 Krita (click to enlarge)
The Calligra and KDE on Windows teams are proud to announce the first testing version of the Calligra Suite Windows installer. Yes, Windows users, you can now use and help test the Calligra from the comfort of your own operating system with a single installer.
Calligra is the lightweight, free and open source office and creativity suite for spreadsheets, word processing, presentations, project management, flowcharts, digital painting and vector images. It uses the Open Document Format (ODF) to share files natively with other office suites while providing basic read support for Microsoft Office files (including .doc, .docx, .xls, .xlsx, .ppt, & .pptx).
Inge Wallin, marketing coordinator for Calligra, says: "We have long wanted to spread our user base to incorporate Windows users as well. The Calligra project does not release binaries, so we are happy that KO gmbH has made the effort to adapt and build Calligra for Windows. We hope that many users will try this package and report back any bugs they find."
It should be noted that this is highly experimental, early beta software. Do not use it for critical production work, just yet. Remember, many Calligra developers use Linux exclusively, meaning we're relying on Windows users to let us know where we can improve things! Expect bugs. Expect crashes. Expect to report both to bugs.kde.org and help us make the best office suite on any operating system, period.
Some features may also be missing due to libraries that have yet to be ported to Windows (for example, some of Krita's high bit depth color modes).
Even in this early, unstable state though, we're already seeing real work being done by brave Calligra testers. Examples include this very announcement and the beautiful artwork of Giovanny Arce using Krita on Windows and featured in the screenshot above.
Major thanks must also go out to KO GmbH (for creating and hosting the builds), NLnet (for funding assistance), Stuart MD who actually did all the work, and the KDE-Win team. It was a major effort, made easier by the surprising number of features that worked flawlessly "out of the box" due to the excellent QT and KDE Platform libraries Calligra is based on.
You can download your unstable, testing copy now.
...and let the fun begin!
(Note: This installer includes the entire Calligra Suite. Single application installers for some apps are also on their way.)
About KO GmbH:
KO GmbH is an expert consulting and development company with services around office document applications in general, the Open Document Format in particular and conversions between office document formats. It is incorporated in Germany but employs developers all over Europe and the United States.
About NLnet:
The foundation "Stichting NLnet" stimulates network research and development in the domain of Internet technology. The articles of association for the NLnet foundation state: "to promote the exchange of electronic information and all that is related or beneficial to that purpose".
---