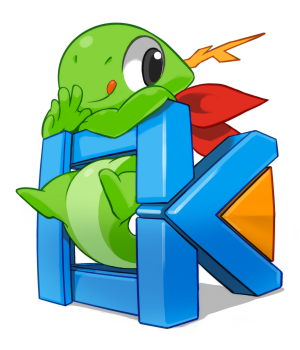 Today, the KDE community has made available the first stable release of Frameworks 5. At the Randa Meetings back in 2011, we started work on porting KDE Platform 4 to Qt 5. But as part of this effort, we also began modularizing our libraries, integrating portions into Qt 5 proper and modularizing the rest so applications can just use the functionality they need. Three years later, while a fundraiser for the 2014 Randa Meetings is in progress, Frameworks is out. Today you can save yourself the time and effort of repeating work that others have done, relying on over 50 Frameworks with mature, well tested code. For a full list and technical details coders can read the API documentation.
Highlights
KArchive offers support for many popular compression codecs in a self-contained, featureful and easy-to-use file archiving and extracting library. Just feed it files; there's no need to reinvent an archiving function in your Qt-based application!


ThreadWeaver offers a high-level API to manage threads using job- and queue-based interfaces. It allows easy scheduling of thread execution by specifying dependencies between the threads and executing them satisfying these dependencies, greatly simplifying the use of multiple threads.


KConfig is a Framework to deal with storing and retrieving configuration settings. It features a group-oriented API. It works with INI files and XDG-compliant cascading directories. It generates code based on XML files.


Solid offers hardware detection and can inform an application about storage devices and volumes, CPU, battery status, power management, network status and interfaces, and Bluetooth. For encrypted partitions, power and networking, running daemons are required.


KI18n adds Gettext support to applications, making it easier to integrate the translation workflow of Qt applications in the general translation infrastructure of many projects.
This is just a taste of the many Frameworks made available today.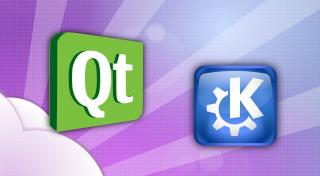 Getting started
On Linux, using packages for your favorite distribution is the recommended way to get access to KDE Frameworks.
Building from source is possible using the basic cmake .; make; make install commands. For a single Tier 1 framework, this is often the easiest solution. People interested in contributing to Frameworks or tracking progress in development of the entire set are encouraged to use kdesrc-build.
Frameworks 5.0 requires Qt 5.2. It represents the first in a series of planned monthly releases making improvements available to developers in a quick and predictable manner.
Where the code goes
Those interested in following and contributing to the development of Frameworks can check out the git repositories, follow the discussions on the KDE Frameworks development mailing list and send in patches through review board.
KDE is always looking for new volunteers and contributions, whether it is help with coding, bug fixing or reporting, writing documentation, translations, promotion, money, etc. All contributions are gratefully appreciated and eagerly accepted. Please read through the donations page for further information. And as was mentioned above, KDE is currently running a fundraiser to make the Randa Meetings 2014 possible. Your contribution is crucial to make an event like this possible - and with that, projects like KDE Frameworks!
---