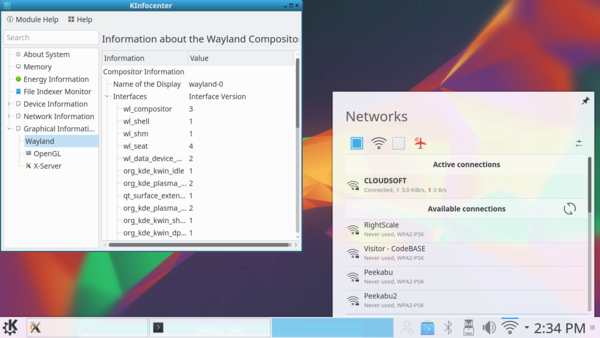 The Plasma team has been working on an early Christmas present: a live image running Plasma on Wayland.
Being able to run a full session of Plasma with applications is a major milestone in our aim of moving from the 30 year old X Window System to its replacement.
The central component in this is our window manager, KWin, which has moved from drawing borders on the edges of windows to running the full compositor and talking the Wayland protocols which allow applications to draw on screen and be interacted with. 
Users of the image will notice some obvious glitches, it is certainly not ready for everyday use yet, but the advantages of more secure workspaces, easier feature extendibility and graphics free of tearing and gitches will be appreciated by everybody. Work on this has been ongoing since 2011 and is expected to take years rather than months before a completely transparent switch away from X will be possible.  Find more about the project on the KWin Wayland wiki pages.
Congratulations to Martin Gräßlin and the rest of the Plasma team on making this possible.
To try it out: download the live image, carefully use dd to copy it to a USB disk and reboot from that disk.  Unfortunately it won't work from a virtual machine yet.
---