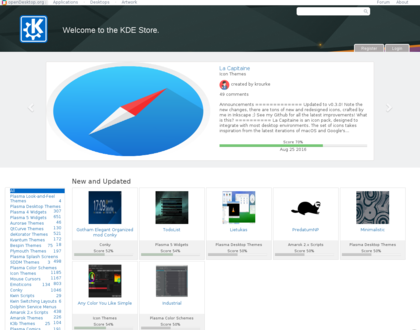 KDE Store
At this year's Akademy, KDE announced The KDE Store. The new store replaces the services provided by openDesktop.org with a Free-as-in-Freedom software sharing platform.
A Bit of History
OpenDesktop, founded in 2001 was one of the first of its kind, very innovative and perhaps even a bit ahead of its time. OpenDesktop served addons such as themes, wallpapers and other non-compiled assets for applications or the desktop. It never established itself as a platform for distribution of applications, or even binary packages. Nevertheless, openDesktop offered users of KDE software (and other desktops as well) a way to extend their apps, and creators a way to share their work with users.
In recent years, openDesktop hasn't seen much love other than keeping it running, there weren't any new features and no solution for offering binary packages. Compared to modern software stores, it fell short.
A New Beginning
In January 2016, Blue Systems acquired hive01 from Frank Karlitschek and restarted work on openDesktop. Since then, content has been cleaned up, the server backend has been replaced by a more modern and scalable solution, and some future plans have been made. Today, KDE announced that the source code for this new service has been released as Free software under the AGPL, fixing a long standing bug in KDE software: reliance on a proprietary web service. The source code for this new web service has been incubated into KDE and is now actively developed under the KDE umbrella. The new store allows users to easily donate to the creator, so artists, developers and contributors now have a clear revenue model when they upload their content.
Sustainability Guaranteed
KDE e.V. has entered a contract with PLING, a sister company of Blue Systems who run the KDE Store service on behalf of KDE. This agreement guarantees KDE the availability of the source code and data, KDE will receive regular data dumps from PLING, so KDE e.V. can, if that situation should arise, take over operation of the KDE Store. The reliance on a third party has also been reduced. The license of the software, the open development process and the availability of the data put KDE (and its users) in a much better place with respect to the sustainability of this service.
Containerized Apps
Freeing and migrating the openDesktop services is just the first step. KDE is already looking into also offering applications in containerized form in the software store. This may lead to a much more direct way of distributing software. It will allow users get their software from the developer, thereby cutting out the middle man and reducing the time it takes for an update to reach the users. KDE is currently experimenting with different containerized app technologies, such as Flatpak, Snappy and AppImage. The jury is still out there on which of these will be the most useful formats, as the technologies are very much work in progress, a progress KDE is happy to be at the centre of.
Upwards and Onwards
The new KDE store offers users and developers more freedom, it gives creators a revenue model and users a way to thank them, and if offers interesting perspectives on software distribution for the future.
Perhaps most importantly, it puts all those things in the hands of the community.
---