The SFLPhone team and Savoir-Faire Linux, a Montreal Open Source consulting company, are pleased to announce the availability of SFLPhone 1.2.0, the first version since the KDE client was moved to KDE infrastructure. Our team is proud of joining the KDE family as part of Playground, and looking forward to being part of Extragear soon. SFLPhone KDE and SFLPhone Qt have been in development for the better part of a decade, aiming to provide the KDE environment with a professional software phone app. Recently, we have been working hard to bring the application to the status of KDE first class citizen. Thank you to the Oxygen and l10n community members for showing such an interest in our application and helping us improve it.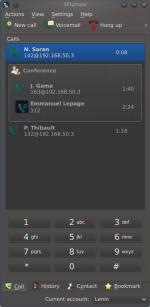 SFLPhone in action
As SFLPhone KDE was until now a little known application, and as everybody loves screenshots, here is a little overview of how it looks and works. With SFLPhone, calls can be made using a SIP or IAX account, as used by most enterprise internal phone networks and well known servers such as Asterisk or FreeSwitch. It is also possible to use it over a land line by installing those tools.
Features
SFLPhone has all of the basic and many advanced SIP features, including:
The ability to manage multiple calls at once
Making conference calls without any other external tools
Both classic transfer and call-to-call transfer
Multiple account configuration
Integration with KDE PIM (Akonadi) Address Book
Support for different devices for ringing and making calls
Various secure calling features
History, voice mail and call recording
Some video support
Ease of use has been high on the agenda, with the application supporting various types of drag'n'drop and an interface designed to scale very well from phone-like skeuomorphism to an advanced multi-column, call-center style look.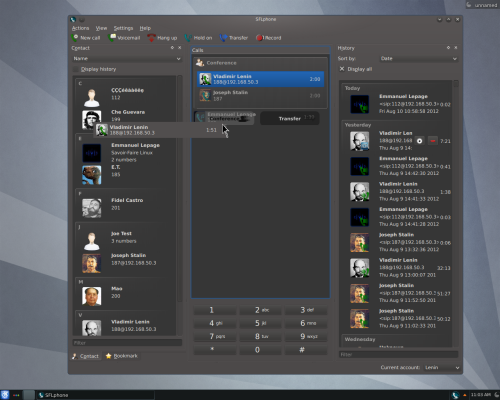 We encourage free software users to experiment with the robust SFLphone softphone. It's useful for the home and individual use, and can be extended to support high volume enterprise communication needs.
---