At the recent Gran Canaria Desktop Summit in Las Palmas, Gran Canaria, Amarok developers Bart Cerneels and Nikolaj Hald Nielsen gave a talk about how a community-developed Free Software project like Amarok can work with businesses in a way that benefited both, without compromising on the spirit or openness of the project.
One of the things that was touched upon was the recent release of the Palm Pre smartphone which relies on Apple's iTunes software for synchronising music with a computer. An interesting question asked was what would happen if Apple decided to block the Pre from using iTunes. Now, just over a week later, this is exactly what happened. Apple has indeed blocked the Pre from using iTunes with its latest update.
Unfortunately, this is just business as usual in the world of proprietary software. In the end, Palm will surely find a way around this, but in the meantime, the users are being held hostage. Adding insult to injury, many Palm Pre owners have likely been purchasing music from iTunes to put on their new smartphones, thus becoming Apple customers as well, so in the end this move hurts Apple's music sales too.
In the talk, the following alternative was considered: Palm could help the Amarok team get the Windows and Mac versions of Amarok polished and ship that as their synchronising client. This would yield many benefits for both parties. As far as Palm is concerned, by relying on iTunes for moving content to the Pre, they have made it clear that they do not consider the synchronisation client a differentiating feature of the device. By using a Free and Open Source application like Amarok instead, Palm would get a synchronising client that runs on Windows, Mac, and unlike iTunes, also on GNU/Linux and other Free and Unix-like platforms. Furthermore, it would run on architectures not supported by Windows or Mac, such as the upcoming breed of ARM based netbooks. They would also avoid being at the mercy of one of their competitors who can, and now has, made it impossible to access the Pre using newer versions of the iTunes software. Also, since Amarok is very actively developed, even if Palm initially has to put in quite a few man hours to get the Windows and Mac versions ready, this solution would still be much cheaper than building their own client from scratch and having to actively support it. Palm would even be free to ship a version of Amarok with custom branding if they chose to do so, something that would definitely not be possible with iTunes.
Of course, none of this is specific to Amarok and the Palm Pre. It is just an example of a collaboration that would make sense in many instances where a company is selling a hardware product and needs to bundle a supporting software solution. As long as the company is not trying to market the software as a unique defining characteristic of the hardware product, bundling existing Free and Open Source software would make economic sense, but more importantly it would also benefit the customers as proprietary lockouts by a third party (like the one Apple is currently attempting with iTunes) could not happen. Also, if several companies decided to ship the same application with their products, the added development resources on the software project would benefit all users, as bugs would get fixed more quickly and overall development would speed up.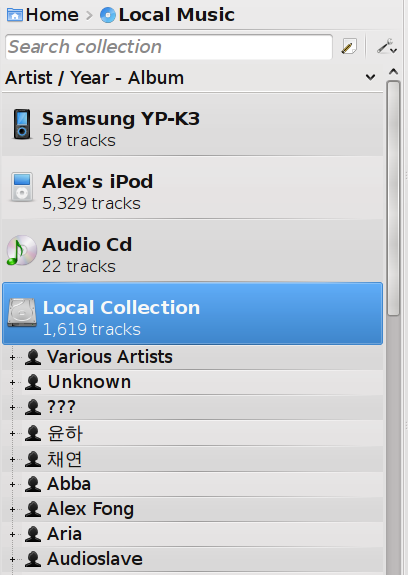 ---