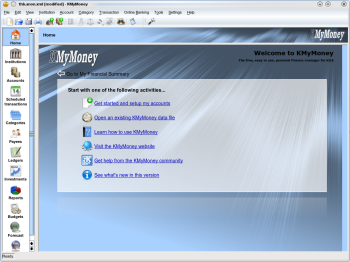 KMyMoney 1.0
The KMyMoney development team is pleased to announce a major step forward for what has been described as "the BEST personal finance manager for FREE users". KMyMoney 1.0 has been released. With over 3 years of development, this new stable release has many new features and a refreshed user interface.
You don't know where your money is going? Trying to get a hold of your household budget? Have an investment portfolio and don't know how much money you earned or lost? You have money in many currencies and it's hard to count how much you actually have? KMyMoney can help you. KMyMoney strives to be the easiest open source personal finance manager to use, especially for the non-technical user. Based on tried and tested double entry accounting principles KMyMoney ensures that your finances are kept in correct order. Although many of the features can be found in other similar applications, KMyMoney strives to present an individual and unique view of your finances. Following the KDE's way of "sensible defaults with powerful configuration", KMyMoney offers a default configuration and templates to start managing your finances with minimum hassle, with the possibility to customize it to your liking.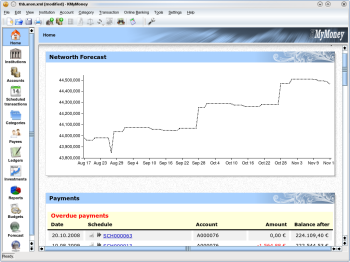 Keep track of where your money is going easily.
As a new user of KMyMoney you can start with entering your account information and keep track of your income and expenses, synchronize with your online banking and have an accurate view of your current finance situation. You can also keep an eye on your investments, if you have them, tracking their price through online quotes. As you feel more comfortable, and ready to get a grip of your finances, you can create a budget, compare it to your actual expenses, and even try to get a peek into the future with the forecast feature. All this and more can be done with this new version of KMyMoney.
Since our latest stable release, 0.8.9, a lot of effort has been put in by the developers and the community to add new features and test them to ensure a rock-solid release. Over 2 years of development have resulted in the addition of budgets, a forecast feature, many new reports, report charts, a complete redesign of the import feature, which allows for a much easier migration from other application and a swifter synchronization with online banking. The support of PGP encryption for the KMyMoney files has been improved too, including the option to have multiple keys for a single file, so no one can access your financial records. The summary view has been revamped to show more and more useful information, allowing you to have an overview of your financial situation at a glance. Also, there are now translations for 22 languages, though not all of them are as complete as we would like. We have users wherever KDE3 is installed. That results not only in a greater quality application, but also in one that can be customized to fit the needs of a wide range of users. In between all that work, we have fixed a lot of bugs and little annoyances to make this the best KMyMoney release ever.
Concerning the future, the porting of KMyMoney to KDE 4 is already underway. Following our usual conservative approach, the first release for KDE4 will be very similar to this one, feature wise. Subsequent releases will take full advantage of the new platform. Also, the coordination work with other KDE4 financial applications under the umbrella of the nascent KDE Finance group opens the door to other exciting possibilities.
For more detailed information about the features included in this release, please check the release notes.
---