The KDE PIM community gathered at Osnabrück, Northern Germany for a weekend in February. The discussions covered recent achievements in KDE PIM, the current state of the community and applications, and brainstorming about the future and new cohesive and social applications. The meeting as usual had many attendees and was hosted, as in each of the previous 8 years, by Intevation GmbH. The agenda reflects the breadth and scope of this year's meeting, ranging from website maintenance to release engineering to features and tools.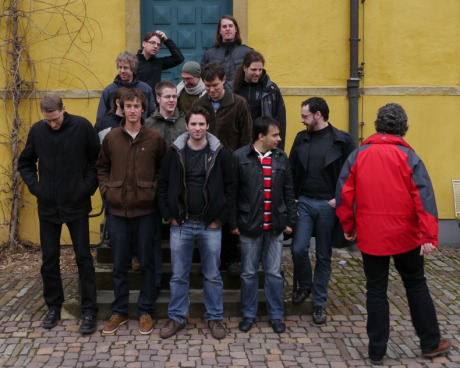 The KDE PIM met in Osnabrück
Entering new ecosystems
Part of the advantage of an annual technically focused meeting is that it brings an opportunity for a retrospective on the year gone by. One of the topics on the agenda was a demonstration of the Kontact Touch application suite. The Kontact Touch initiative was announced as an ambitious plan at the last KDE PIM meeting in Osnabrück; we have been following its development here on the dot and in other technical media outlets. Kontact Touch, primarily suitable for personal handheld devices, was demonstrated on the N900 (MeeGo mobile UX), Lenovo IdeaPad (MeeGo netbook UX), HTC Touch Pro2 (Windows CE), the Aava Mobile Smartphone and the Wepad. The touch-orientated user interface uses much of the same technology and code as the equivalent desktop applications so it is possible to port them to any target where Qt and D-Bus are available.
Fresh ideas
Friday evening, meeting participants had an opporunity to set out an agenda for the rest of the weekend, and to start "community building" (read: dinner and drinks :) ). Dinner for the weekend was sponsored by Intevation, KDAB and Kolab Systems. One of the goals identified at the last Osnabrück meeting was to grow the KDE PIM community. This has been a success in many ways as demonstrated by the fact that some of the new community members attended the meeting.
Christian Mollekopf demonstrated notetaker, a new application under development which combines the notes data available through KJots with TODOs available through KOrganizer. It allows the user a quick area for jotting a note, which can later be converted to a TODO or vice-versa. Christian's application does not depend on KJots or KOrganizer, but instead all three applications access the common data through Akonadi. The application also relies on Nepomuk for tagging, rating and search capabilities. These kinds of applications--combining data in different ways through multiple applications--are likely to be the future direction of innovation in KDE PIM. We spent some time discussing concepts and ideas for how we can combine and (locally) aggregate data in useful ways.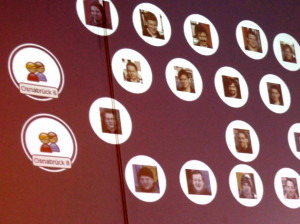 Polka gives a new view of contacts
Cornelius Schumacher also demonstrated Polka, an application written during the recent openSUSE hackweek for managing addressbook entries. The most visible innovation in Polka is the arrangements of contacts not in the traditional form of a list or tree, but in free-form and radial arrangements and groupings. The user can group different contacts together using drag and drop depending on context (such as family, university etc) and add notes directly in any way desired. Another nice, modern feature of Polka is version control. Even when data on a contact is changed (such as phone number or email address), it is possible to traverse backwards through history to find the old data. All attendees were excited to think of how we can build innovations like this into existing KDE PIM applications.
Releasing Early Releasing often Releasing
A hot topic for this meeting was of course the release of the KDE PIM 4.6 desktop suite based on Akonadi. All of KDE PIM has seen huge improvements in stability and completeness over the last year. The team identified some remaining hurdles for users and started working on resolving them. This work involved simplifying the data migration during upgrade and updates to various interactions with Nepomuk to resolve performance issues. The end result is that a final KDE PIM release is expected to be made during the 4.6 KDE release cycle. KDE PIM 4.6 will not be part of the spring release of popular GNU/Linux distributions, but will be made available through unstable/backports repositories for early adopters. Part of the discussion centered around PR and framing the release to be aimed at early adopters and technical users.
Community growth
With the new concepts available in the KDE PIM platform for innovative developers, a flexible web presence is essential to help document how to join the community. Modernizing the KDE PIM web presence has been a regular topic since at least 2007, and this year Ingo Klöcker completed the migration from the old http://pim.kde.org/ subdomain to the KDE Community Wiki. The actual content still needs updating in some areas, but organizing the pages into the crowd-sourceable wiki is a major step in creating better content.
The meeting also brought lots of opportunity for API and bug fixing as well as new developments. The weekend saw the development of a Facebook resource for Akonadi, making Facebook data instantly available to all KDE PIM applications. There was lots of discussion around solving persistent problems in PIM, such as handling deleted data, a generic import/export framework, future-proof handling of DAV and Free/Busy information, merging of contacts and 'Person objects' and much more.
As there were many people with many important discussion topics, the meeting participants broke out into several focused groups for special topics. These included:
Demonstrating a new Kontact on Windows package with improved build system. Ralf Habacker from KDE on Windows was a special guest for this part of the meeting.
Discussion of invitation compatibility with other applications like Outlook.
Discussion of speed of sqlite versus mysql databases. The Touch and Windows desktop versions of Kontact are using sqlite sucessfully.
As usual, KDE PIM has entered some ideas for KDE's Google Summer of Code application. Talented students who have some C++/Qt experience and are eager to join the community are encouraged to explore the ideas or come up with new ideas independently. There are plenty of existing developers available to mentor students. New talent is always welcome.
After the meeting is before the meeting
Innovation has long been a focus and a talent of the KDE PIM community. KDE PIM is among the leaders in Qt and KDE, bringing our technology to mobile platforms and touch interfaces. Advances made possible by Akonadi that go beyond speed of access to easy interaction with third party services and new user interface concepts are only starting to be explored. Of course, innovation is not the only focus. Stability and strength in the platform are essential to promote innovation, and work in these areas will remain a focus of the core developers. Growth in the community with fresh ideas and shared infrastructure will help make Free Software the best way to organize people's digital lives. Next year we celebrate 10 years of sustained KDE PIM community meetings - that's more than any other regular KDE community event. There is a bright future ahead.
---