KDE is delighted to announce its latest releases—Version 4.7—providing major updates to the KDE Plasma Workspaces, KDE Applications, and the KDE Platform. Check out the highlights below, or read the full announcement.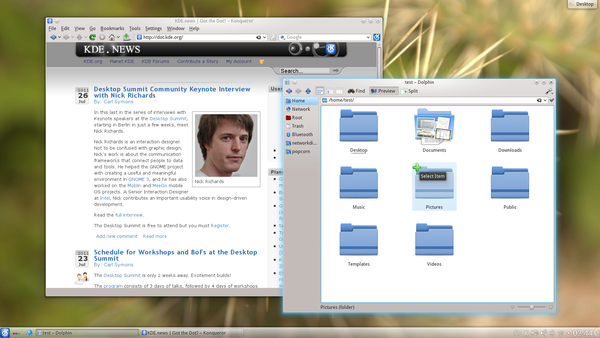 Plasma Workspaces Are More Portable
With extensive work on KDE's compositing window manager, KWin, and new Qt technologies such as Qt Quick, the most advanced user interface is available in more places and on more kinds of devices. Read more...
Akonadi Positions Kontact for the Future
KDE's groupware solution, Kontact, rejoins the main KDE release cycle with all major components ported to Akonadi, a leading personal information management storage service. The Digikam Software Collections comes with a new major version, 2.0. Read more...
Improved Multimedia and Semantic Capabilities
There are major improvements to Phonon and social semantic desktop components in the KDE Platform. Enriched APIs and better stability offer significant benefits to developers. Read more...
New, integrated Instant Messaging
The KDE-Telepathy team is proud to announce the technical preview and historic first release of the new Instant Messaging solution for KDE...still in its early stages. All sorts of accounts are supported, such as GTalk and Facebook Chat. The Presence Plasma widget drops right into the panel for managing online status. As this project is not yet mature enough to be part of the big KDE family, it has been packaged and released separately, and has installation instructions. Give it a try!
Stability + Features
In addition to the many new features described in the detailed release announcements, KDE contributors have closed over 12,000 bug reports since the last major releases of KDE software in January 2011. As a result, KDE software is more stable than ever before.
Help Spread the Word
While it's easy to think of the KDE team as mostly developers, non-technical users are also critical to success. Please help spread the word. Report bugs. Encourage others to join the KDE Community.
Follow what's happening with the new releases on the social web at buzz.kde.org.
---